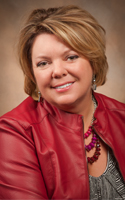 San Jose, CA (PRWEB) November 04, 2014
Sellers are busy people. The litany of tasks assigned to many people in professional sales positions can turn into an endless to-do list, leaving sellers feeling overwhelmed and burned out. These seemingly minor tasks can begin to encroach upon a seller's schedule, eventually overcoming the more important things they must do.
Enter Lisa Crilley Mallis, who will appear on CONNECT! Online Radio for Professional Sellers to address this problem head-on. This broadcast, titled "Accomplish Your #1 Most Important Task" will help sellers reconfigure their priorities and equip them with the goal-setting techniques that will help them manage their to-do lists and focus on what's important. Mallis is the founder of SystemSavvy Consulting and the author of "30 Days to Success: An AWE Inspired Journal," combining her experience in direct sales and education with a love of schedules and planning to help professionals achieve their dreams without the stress of being too busy.
Your program host, Deb Calvert, will conduct the interview with Mallis, incorporating questions submitted beforehand and live by listeners. The CONNECT! Online Radio Show for Selling Professionals is dedicated to helping sellers connect with buyers so they can cut out continuances, put an end to pending and stop stalling out.
To submit questions for these guests and Calvert before the live broadcast, listeners can send an e-mail to deb.calvert(at)peoplefirstps(dot)com. To join the live broadcast and submit chat questions or call in directly, listeners are invited to go to the show's website.
An archived version of this program will be available after it airs at the iTunes Store CONNECT1 or at the website listed above.
CONNECT! Online Radio for Selling Professionals is sponsored by People First Productivity Solutions, a sales training firm dedicated to building organizational strength by putting people first. Deb Calvert, founder and president of PFPS, formed the CONNECT! Community to support sellers at all stages of their selling careers.