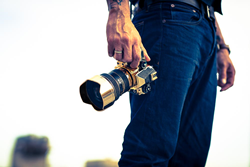 The Lux Nikon Kit...is packaged in a custom Zero Halliburton Camera Case, that is finished by Brikk in 24k yellow gold.
Los Angeles, CA (PRWEB) October 31, 2014
Today, the design and branding pioneers at Brikk announce the launch of the long rumored Lux Nikon DF Camera and Lux Nikkor 14-24 F/2.8 Lens. Both eagerly anticipated pieces are covered in 24k yellow gold and accented with stingray leather.
The Lux Nikon Kit will thrill discriminating collectors; its novel features are already establishing it as a coveted status symbol for consumers of both luxury and utility goods. Lux Nkon Ki is joining Brikk's Lux line, following the launch of the Lux iPhone 6 and iPhone 6 Plus in July.
Brikk founder and CEO Cyrus Blacksmith has been intrigued with the historic gold Nikon FM, which was made in a limited edition run by Nikon in 1977. When Nikon launched their retro inspired Nikon DF last year, Cyrus expected them to include a gold edition as well. When there were no signs that Nikon was planning to launch a gold version, Cryus decided to put the camera through his development lab at Brikk, and create that version himself.
The LUX NIKON KIT includes a Lux Nikon DF Camera and Lux Nikkor 14-24 F/2.8 Lens finished in pure 24k gold. Only 77 units of this edition will be made. It has taken almost a year of R&D to develop this kit in Brikk's secretive product development lab. Sections of the camera are adorned in stingray leather, including the focus and zoom rings, flash area, and grip. The thickness of the gold plating is between 4 and 5 microns and is certified to be genuine. All warranty work is handled through Brikk or a Brikk Service Center.
The Lux luxury line stands out thanks to its meticulous production processes. Each piece is disassembled inside Brikk's state-of-the-art laboratory in Los Angeles, USA by a team of highly skilled engineers. They are hand polished, prepared and plated with five layers of diverse metals before their final plating in two layers of gold. Each piece is then reassembled and tested before shipping to clients, ensuring the product meets only the highest quality control standards.
The Lux Nikon Kit includes all original accessories and is packaged in a custom Zero Halliburton Camera Case, that is finished by Brikk in 24k yellow gold. The total kit includes a brand new Nikon DF Camera with rechargeable battery, Quick Charger, USB Cable, Rubber Eyecup, Camera Strap, Eyepiece, Body Cap, Hot Shoe Cover, Software, Nikkor 14-24 F/2.8 Lens with Front Cap, Rear Cap, Hood, and 1 Year Limited Warranty through Brikk. The entire kit sells for USD $41,395 and is available at Brikk resellers, Brikk stores, and on Brikk's website.
About Brikk™
Brikk is a luxury technology-driven brand that is rapidly redefining the meaning of opulence. The vision of CEO Cyrus Blacksmith, a former designer of computer systems and hi-tech media installations, Brikk's team consists of elite experts in Industrial Design, Engineering, Physics, Marketing, and Distribution. Brikk is currently headquartered in Los Angeles, with additional offices located globally in Istanbul, Cologne, Hong Kong, and China. Our brand is poised to explode, with an estimated 50 store openings planned throughout the world within the next 36 months. Our stores will carry a collaboration-driven array of clothing, jewelry, and technology, in addition to the product we design in-house.
Unique to any other luxury retailer, Brikk operates under the mission to establish a global precedent for all luxury brands. Our aim is to show our peers the importance of sharing a significant portion of our annual earnings to proven philanthropic organizations for the betterment of our world.