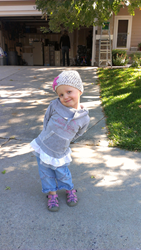 "Angel Flight West could literally be the difference of life or death . . . a chance for my patient to have a transplant, and 10-20 more years of life." Karista P, RN, Portland, OHSU Hepatology
Los Angeles, California (PRWEB) October 31, 2014
Angel Flight West (AFW) announces the launch of their first crowdfunding campaign "Have You Helped An Angel Today" on Indiegogo.com on Monday, November 3rd.
Angel Flight West, a non-profit located in Santa Monica, California, works with generous pilots and who volunteer their time and donate their planes to fly sick patients to treatment, who, through lack of funds or geographical challenges, would be unable to get there any other way. Arika Patneaude, a social worker in the oncology department of the Children's Hospital Seattle, says, "Angel Flight West is amazing! They're always able to assist the patients and families I work with. They are professional and treat every case as if it is their only one! Thank you!"
AFW is looking to raise $50,000 through the campaign, which will enable them to service 200 additional flights for children needing air travel to medical treatment in 2015. In exchange for donations, they are offering terrific perks which they are excited to share with the Indiegogo community on Monday. One of the fun and unique elements to the campaign is the "I Fly For Angel Flight West" challenge.
"Fundraising is vital to our existence, and like many non-profits, we need to raise funding, awareness and expand our reach further into the communities we serve. By harnessing the power of the Internet through Indiegogo, we hope to reach a different level of philanthropist, and have a lot of fun while doing it," said Angel Flight West's Executive Director, Josh Olson.
"We are a grassroots organization and we run on the generous volunteer work of our awesome pilots and staff, so we can genuinely say that no amount is too small to donate to this campaign on Monday," said Chairman of the Board Stephen Danz.
Angel Flight West is asking any folks who care about the service they provide to support their campaign on its first day, Monday, November 3rd. Or "Like" them on Facebook, or follow them on Twitter @Angelflightwest If you want to find out more about the life-saving work Angel Flight West provides, or about ways in which you can get involved, please email them at Kerryd(at)angelflightwest(dot)org or visit their website http://www.angelflightwest.org. #HaveYouHelpedAnAngelToday?