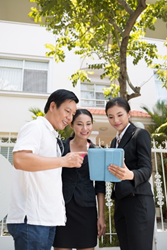 Qualified Mortgage rule could expand access to credit
Chicago, IL (PRWEB) October 31, 2014
Loan officers at The Federal Saving Bank were pleased to see that The National Association of Realtors latest September Pending Home Sales Index showed a slight rise during the month.
The index, which is based on contract signings and provides a view into future home sales, rose 0.3 percent from 107.4 points in August to 105 points in September. Compared to September 2013, the index increased 1 percent from 104 points. Economists surveyed by Bloomberg projected a 1 percent month-over-month rise.
NAR Chief Economist Lawrence Yun said the market is currently favorable to buyers as a result of two factors: slower price growth and sustained inventory levels.
"Housing supply for existing homes was up in September 6 percent from a year ago, which is preventing prices from rising at the accelerated clip seen earlier this year," he said. "Additionally, the current spectacularly low mortgage rates should help more buyers reach the market."
One caveat is these buyer advantages are accompanied by tighter lending standards, and price increases that occurred mid-2013 are still affecting affordability in some markets. However, one economist told The Associated Press on October 27th that there have been "steady" and "modest" improvements in these areas.
Qualified Mortgage rule could expand access to credit
Yun acknowledged the home buying obstacles cited by surveyed Realtors and explained some relief is expected to come to consumers once the final rule for QM mortgages goes into effect in 2015.
"The rule provides clarity for lenders and is a win for creditworthy consumers by ensuring they continue to have access to safe and affordable loan products without overly burdensome down payment requirements," Yun said.
This will likely be welcome news for home buyers, as the the latest Origination Insight Report from Ellie Mae noted 32 percent of closed loans in September had an average FICO score of less than 700. In September 2013, that share was 34 percent, indicating tighter lending standards.
Another bit of good news for more favorable underwriting standards is federal regulators, including the Federal Reserve and the Securities and Exchange Commission, recently approved measures to expand mortgage credit availability, the AP reported. The changes to lending rules would allow borrowers to furnish less than a 20 percent down payment under certain conditions that must be met by the lenders.
Contact the Federal Savings Bank, a veteran owned bank, for information about getting an affordable, low rate mortgage of your own.