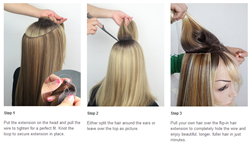 A new generation of flip in extensions or halo hair extensions just arrived at UniWigs.com
(PRWEB) October 31, 2014
Uniwigs.com newly arrived flip in hair extensions are unlike traditional hair extensions. The new model can comfortably attach itself around people's heads with a transparent miracle wire undetectable under people's own hair. This new generation of flip-in extensions comes with adjustable loops, which are improved over the basic original one. It upgrades the wire part and customers can now adjust the wire to best fit the size of their head more easily.
When people apply this new generation of flip ins, they simply need to adjust the wire to the their head size with the adjustable loops and make a knot. Then they can place the flip in wire on their head and they will find it rests perfectly and blends naturally with their own hair. With the aid of the adjustable transparent wire, the flip in can fit any head shape or size perfectly.
In the meantime, since the new flip in hair extensions inherit its ease of use from previous flip ins, they can be applied in minutes and be removed in just ONE second. That's really time-saving and really easy! There are now two items on sale: Upgraded 20" Straight Synthetic Flip In Hair Extension With Bead (SKU: E52001-Y-23) and Upgraded 22" Wave Synthetic Flip In Hair Extension With Bead (SKU: E52002-Y-23)
Apart from this new product being released, UniWigs.com is having a Halloween sale with 20% off on all the products for three days. People always want to save on their purchases during the holidays, and UniWigs.com loves to be accommodating. When people buy hair products on this website, they can save 20% from Oct. 30th to Nov. 1st. Hurry to save!
About UNIWIGS:
Uniwigs.com offers a variety of wigs as well as hair products. Online customers can find lace front wigs, full lace wigs, clip-in hair extensions, braids and hair pieces at uniwigs.com. With a professional hair stylist team and celebrity hair styles, Uniwigs has become a well- known brand broadly recommended by hundreds of web gurus and customers.