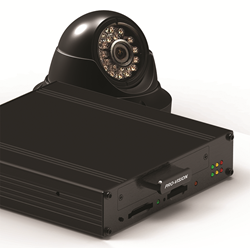 Byron Center, Michigan (PRWEB) October 31, 2014
PRO-VISION® Video Systems announced today that their factory installation team has completed installation of the first-ever eight channel 1080p high-definition video surveillance system on buses in Exeter, MO. The new systems incorporate all-new, exclusive technology from PRO-VISION® that allows up to eight cameras to be connected to a single solid-state DVR and record 1080p high-definition video from all eight cameras simultaneoulsy. "This is the most advanced school bus video system available on the market today," said Matt Lehnert, engineering manager for PRO-VISION®.
For years, school districts around the country have implemented video surveillance systems to protect and monitor students as they travel to and from school. A few of these systems could handle eight channels of video, and fewer systems could offer multiple channels of 1080p high-definition video. The PRO-VISION® High-Definition School Bus Video System is the first-ever system able to offer eight channels of 1080p high-definition video that records to a single solid state DVR giving school districts a high-quality HD video system for an affordable price.
Placing an emphasis on building Reliable, Simple, Affordable™ video systems, PRO-VISION® has again set the bar on how to increase safety and reduce liability in and around the school buses our children ride every day.
About PRO-VISION – In 2003, PRO-VISION was incorporated and focused solely on back-up camera systems. 2005 marked their entry into the school bus market which helped their sales top 1 million dollars the following year. The company made their first international sale in 2007, and by 2009, PRO-VISION expanded into commercial recording systems. During that time, they also released 4-camera school bus systems and made available live video viewing and video file transfer. In 2011, the company expanded into law enforcement recording systems and initiated its overseas sales program. 2013 brought on the company's10-year anniversary as well as the introduction of the BODYCAM® body-worn video system. 2014 has seen the launch of the first-ever 8 channel, 1080p High-Definition solid state DVR as well as expanded sales into over 30 countries around the globe including South Africa, Great Britain, Australia, Mexico, and Brazil.