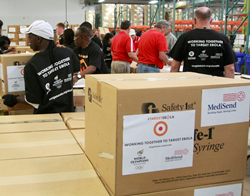 I appeal to my Olympic friends to spread this vital message and I make a plea to anyone and everyone to come forward with a much needed donation." Carl Lewis
(PRWEB) November 04, 2014
MediSend has partnered with the World Olympians Association (WOA) in the #TargetEbola campaign to send desperately needed medical and personal protection supplies to West Africa. The partnership was launched on October 23rd at the Elisabeth Dahan Humanitarian Center, MediSend's headquarters in Dallas, Texas. World Olympians Association CEO Mike Miller flew in from London for the event where former Texas Olympians joined together to pack and label cases of medical supplies that will fill two forty-foot ocean containers bound for Sierra Leone.
The shipments are co-sponsored by the Dahan Family Foundation, Chevron, Cambridge Mindful Living Foundation, the Langdon Family Foundation and the Huey 091 Foundation, a veterans organization supporting our troops in harm's way.
Dr. Francis Dove Edwin, a two-time Olympian from Sierra Leone and a member of the Sierra Leone Presidential task force to combat Ebola, along with his fellow Sierra Leone Olympians, has asked the World Olympians Association to help raise funds for this vital project.
Carl Lewis, nine-time Olympic Gold Medalist in Los Angeles, Seoul, Barcelona and Atlanta said, "The #TargetEbola campaign is a very worthy cause and drastic action is needed. I appeal to my Olympic friends to spread this vital message and I make a plea to anyone and everyone to come forward with a much needed donation."
Olympic legends like Usain Bolt, Claudia Bokel, Sergey Bubka, Koji Murofushi, Pernilla Wiberg and Yang Yang are already supporting the campaign. The WOA is also appealing to the rest of its 100,000 strong Olympian community around the world to get involved and to use their social media networks to inform others.
"We are proud to join Olympians worldwide in support of #TargetEbola. We hope others will join our common mission to help ease the suffering and stop the spread of this dreadful disease," said Nick Hallack President and CEO of MediSend.