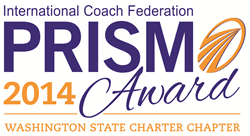 "PRISM recipients have stood above the rest in terms of their effective use of coaching and documented return on investment (ROI) and/or return on expectations (ROE)." Janet Harvey, Past President ICF Global, WA State PRISM Task Force Leader
(PRWEB) October 31, 2014
The 2nd Annual PRISM Award is a celebration to honor organizations that have achieved a standard of excellence in the implementation of coaching programs for culture change, leadership development, productivity and performance improvement measured by ROE and ROI.
These organizations have utilized best practices in implementing coaching initiatives that are aligned with ICF standards, integrated with business strategy, embedded into the fabric of the organization, and focused on results.
The 2014 Nominees are: The Bill and Melinda Gates Foundation, Boeing Commercial Airplanes, Clark Nuber and Gravity Payments. The 2nd Annual PRISM Award continues a tradition celebrating excellence that began in 2013. The winner of the 1st Annual 2013 ICF Washington State Prism Award was Microsoft.
The daytime Symposium will guide leaders, talent development professionals, and both internal and external coaches to create greater impact on their organizations through the development and evolution of coaching programs that deliver measurable results.
Kelly Johnston, Mass Ingenuity, will deliver the morning keynote address. Symposium speakers include Lisa Edwards, Judy Hansen, Ken Kaufman, Ann Kruse, Sam Magill, Logan Reed, Diane Rudd, Jeaneen Schmidt, Nina Simonds, Rita Swenor and Grace Wang.
At the evening Award Ceremony, Lynne Griffith, Secretary, Washington State Ferries and Former CEO Pierce Transit will entertain as keynote speaker providing organizational coaching insights to the Pierce Transit award winning coaching program that created an unprecedented turn-around in employee engagement.
Nominees will showcase their organizational coaching programs – sharing their best practices and accomplishments to be followed by the presentation of the 2014 ICF Washington State Prism Award. The nominating coach will receive special recognition as the 2014 PRISM Coach.
The PRISM Symposium and Award Ceremony will be held on November 3, 2014 at the Washington Athletic Club, 1325 6th Ave, Seattle, WA.
Thank you to Event Sponsors:
Accomplishment Coaching
American Management Association
inviteChange
Lake Washington Human Resources
Vera Whole Health
ICF Washington State is a Charter Chapter of the International Coach Federation formed in 1998. As a coaching community, we are committed to service with excellence, leading for transformative change and inspiring action that can be carried through with ease. We foster collaboration for the future across our region within and among coaches, business enterprises, education and government.