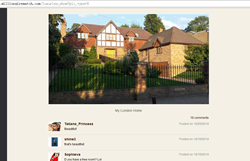 (PRWEB) October 31, 2014
MillionaireMatch.com, one of the longest-running dating sites for single millionaires, recently concluded that of all the possible investments that its members enjoy investing in, real estate came out on top. In fact, real estate was more popular than the stock market, index funds, ETFs, and many other high-risk investment strategies.
Real estate itself can be a high-risk endeavor, and it helps if you have money saved away to handle any surprises. The members on MillionaireMatch.com have found that investing some of their wealth in the current market has created a high-yield investment within a shorter time frame. Some real estate photos and comments can be found under the feature of "Members' luxuries"on the page of http://www.millionairematch.com/luxuries_show?pic_type=8.
Stocks still remain a popular investment option by members, but this is overshadowed by the current tumultuous market and other unknowns—such as the quantitative easing policies of the Federal Reserve.
The housing market "bust" reached its low point around November 11th, 2012, according to an article by Forbes Magazine. The source comes from http://www.forbes.com/sites/joshuarogers/2013/05/20/so-you-missed-the-top-in-gold-and-the-bottom-in-housing-so-what. Since then, investors, speculators, and home buyers have been purchasing up homes, searching for good deals across various cities with the U.S. MillionaireMatch.com members aren't simply following this trend—they're leading it. Many members have been checking various housing markets and picking up choice home deals for nearly three years now.
MillionaireMatch.com is unique to dating sites because it offers a window into the what the wealthy are spending their money on. This is as true for material wealth as it is for investment options. Site members are often found discussing investment options on the site's forums—although dating advice and tips still takes precedence.
MillionaireMatch.com was founded in 2001, and has since remained one of the highest-rated dating sites for affluent singles, stars, and other wealthy women and wealthy men individuals for nearly fifteen years. For information on how to join MillionaireMatch.com, or for those looking for more information, please visit the website, MillionaireMatch.com.