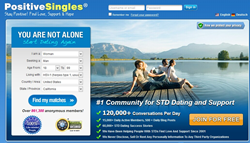 Los Angeles California (PRWEB) November 03, 2014
Members of PositiveSingles.com had a discussion on the site's blog(http://www.positivesingles.com/blogs/blog_messages?blog_id=522063) on Oct.30, where they talked about the type of places they preferred to go for a first date. The top three choices that people living with STDs preferred, according to votes on the site, were a coffee shop, pub, and restaurant.
PositiveSingles.com is the largest STD dating site in the world. The site has more than 800,000 members, and a very active discussion forum, where members can talk about anything related to STD dating. A recent question posted on the site was about what type of place members prefer to go on a first date, and this sparked some lively discussion.
Coffee shops, pubs and restaurants won the voting results. Members on this herpes dating site prefer these places because they can feel relaxed there, which makes it easier to get to know someone on a first date. These locations are public enough that people feel safe meeting a stranger there, and are also conducive to carrying on a conversation. One member commented that these establishments can make a good starting place. If you hit it off with somebody, you can make other plans to continue from there.
Some members on the STD dating site preferred meeting at a bar or lounge. Having a drink can make people more relaxed, and make it easier to talk. Other members preferred a location like a museum or a mall for a cold rainy night. These locations are quiet, and let people stroll around as they get to know somebody. Looking at artworks or shops together gives people easy topics to talk about. Some members preferred outdoor activities during nice weather, such as walking in the park or visiting the zoo. Sometimes blue sky and fresh air can put people in a more positive frame of mind, which can be advantageous on a first date.
About PositiveSingles
PositiveSingles.com is the largest online dating site that caters specifically to people with herpes and other STDs, and this herpes dating site has helped people living with STDs to find partners for over 13 years. Members use the site to set up dates, start relationships, and find love. The active community is warm and supportive, and members can get advice and make new friends. Anyone can create a free anonymous profile, and member data is never sold, rented or disclosed.