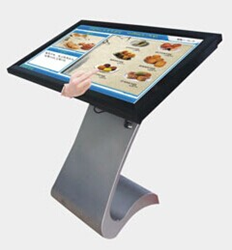 (PRWEB) October 31, 2014
Recently, Digital-Signage-China.com, an outstanding digital signage software supplier in market, has announced its new collection of touch screen advertising players on its website. Moreover, all these brand new items come with big discounts now, from 15% to 30% off.
There are over 20 items of high quality touch screen advertising players at the website of Digital-Signage-China.com, and these models range from 22 to 65 inches. However, the CEO of the company says that they can provide custom service to its customers, i.e. players in other sizes are also available here.
In the digital signage industry, technological development is quite frequent. Its top player experts also take the utmost care in product quality, which ultimately leads to the company's popularity. Worldwide clients can find a lot of advanced advertising players at the company's website. In addition, a lot of its items are priced very low.
The senior spokesman states, "We are happy to announce our new versions of touch screen advertising players. As is known to all, every distributor wants to obtain high quality products at cost-effective rates. Our players are offered to help worldwide distributors to get what they actually need. The aim of our company is to be an outstanding supplier of high quality digital signage products. We are always ready to serve all of you."
About Digital-Signage-China.com
Digital-Signage-China.com is a well-known digital signage technology company with the eligibility of production, installation and maintenance of digital signage products. The company has much experience in the industry, and its customers are provided with the best resources and professional tips. For more information about the business and its digital players, visit http://www.digital-signage-china.com/?content/product/49/index.html.