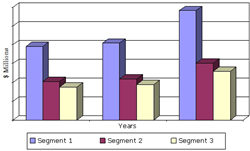 Global Market for U.S. Indoor Air Quality (IAQ) to Reach $11.4 Billion by 2019
Wellesley, Mass. (PRWEB) October 31, 2014
BCC Research (http://www.bccresearch.com) reveals in its new report, U.S. INDOOR AIR QUALITY MARKET, the U.S. indoor air quality (IAQ) market is expected to grow to $11.4 billion by 2019, with a compound annual growth rate (CAGR) of 7% over the next five years. The equipment segment market is anticipated to grow at a CAGR of 7.4%.
Since 2012, continuing media attention focused on the health effects of toxic mold, the outbreak of infectious diseases such as bird flu and the increase in chronic respiratory diseases such as asthma have resulted in a new interest in IAQ in homes, commercial buildings, schools and hospitals.
There is a distinct equipment market within the industry that includes products such as air-cleaning equipment, HVAC equipment, HVAC replacement filters and IAQ instrumentation. This market, which was valued at $3.9 billion in 2013, is predicted to reach nearly $4.1 billion in 2014 and $5.8 billion in 2019, with a projected CAGR of 7.4%.
Although the commercial segment was the largest market for IAQ equipment and services in 2013, the residential sector is projected to move into the top position by 2019, with 29% of the market, followed by commercial buildings (28%), healthcare (16%) and schools (14%).
"The U.S. economy has continued to recover from the 2008–2009 recession, boosting the market for IAQ equipment and services," says BCC Research environment analyst, Andrew McWilliams. "The IAQ market is important because health problems such as building-related illness and sick-building syndrome, as well as other ailments associated with poor IAQ in homes, offices and schools, are on the rise in the U.S."
U.S. INDOOR AIR QUALITY MARKET determines the size of the overall IAQ market and its subcategories, such as IAQ equipment and technologies, consulting services and environmental services. Revenue forecasts are provided for the period 2014 to 2019.
Editors and reporters who wish to speak with the analyst should contact Steven Cumming at steven(dot)cumming(at)bccresearch(dot)com.
About BCC Research
BCC Research publishes market research reports that make organizations worldwide more profitable with intelligence that drives smart business decisions. These reports cover today's major industrial and technology sectors, including emerging markets. For more than 40 years we've helped customers identify new market opportunities with accurate and reliable data and insight, including market sizing, forecasting, industry overviews, and identification of significant trends and key competitors. We partner with analysts who are experts in specific areas of industry and technology, providing unbiased measurements and assessments of global markets. Our clients include the top companies in industries around the world as well as universities, business schools, start-ups, consulting firms and investment companies. BCC Research is a unit of Eli Research LLC. Visit our website at http://www.bccresearch.com. Contact us: (+1) 781-489-7301 (U.S. Eastern Time), or email information(at)bccresearch(dot)com.
Data and analysis extracted from this press release must be accompanied by a statement identifying BCC Research LLC, 49-2 Walnut Park, Wellesley, MA 02481, Telephone: (+1) 781-489-7301; Email: editor(at)bccresearch(dot)com as the source and publisher. Thank you.