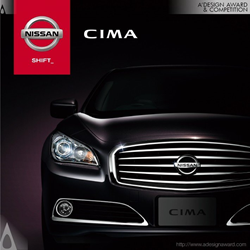 Como, Italy (PRWEB) October 31, 2014
A' Design Award and Competition is pleased to announce that the brochure design Nissan Cima has been acknowledged with the notable Golden A' Design Award in Graphics Design Competition.
More on Nissan Cima Brochure
Nissan Motor Co., Ltd the creative team behind the award winning brochure design project "Nissan Cima" said: "Nissan integrated all of its state-of-art technologies and wisdom, interior materials of superb quality and the art of Japanese craftsmanship ("MONOZUKURI" in Japanese) to create a luxury sedan of unmatched quality - the new CIMA, Nissan's lone flagship. This brochure is designed not only to show the product features of CIMA, but also to get across to the audience Nissan's confidence and pride in its craftsmanship." To learn more visit: http://www.adesignaward.com/design.php?ID=29794
Project Members for NISSAN CIMA Brochure
NISSAN CIMA Brochure was designed by ECD: Tomohira KODAMA, CD: Yoshihiro MIMURA, AD: Junichi KANBARA, CW: Takanori UTSUMI, Photographer: Koji BABA and CGI: EGC CG Creative
The Golden A' Design Award
The Golden A' Design Award is a prestigious award given to top 3% percentile designs that has carried out an exemplary level of quality in design. Entries to the A' Design Award & Competition are peer reviewed and anonymously voted by a grand jury panel consisting of 50 design scholars, prominent editors and design professionals. Entries are voted on predetermined evaluation criteria such as aesthetics, design quality and techniques. Award winning designs are exhibited internationally in Italy, Ireland, Holland and China. Award winners are published and featured in a hard-copy book, are given design excellence trophies and are included in World Design Rankings and are invited to join the glamorous black-tie award ceremony in Como Lake. Award winning works are further translated to all languages to create true international reach.
About A' Design Award and Competition
The A' Design Award & Competition is the Worlds' most international design accolade, annually receiving entries from all countries, in 2014 designers, brands, companies and architects from 78 countries were awarded with an A' Design Award. The A' Design Award aims to create a global awareness for good design practices and principles by highlighting the very best design works, in order to push product manufacturers, designers and service providers worldwide to come up with superior designs that benefit society. To learn more about the A' Design Awards, visit: http://www.designaward.com