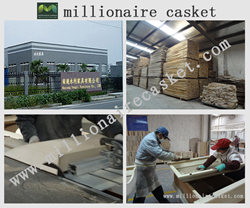 (PRWEB) October 31, 2014
Recently, MillionaireCasket.com, a well-known funeral product company from China, has released several new walnut caskets, and announced a new casket promotion. According to the CEO of the company, any walnut casket order can get a discount, up to 30% off, before November 11, 2014.
MillionaireCasket provides high quality products only. The company has its own manufacturing facility loaded with advanced machinery. It has a team of skilled craftsmen. Every product is acutely checked. All its products are at affordable prices. In recent years, Millionaire Casket has designed many kinds of caskets that have various interior and exterior structure and decoration to meet diverse needs.
The company has been in the industry for many years, supplying metal caskets, wooden coffins and other useful funeral products. They have much experience in manufacturing high quality coffins, which are distributed worldwide via a network authorized by the company. Each product from the company is inexpensive.
In addition, the company's website has been updated in recent days. The company has been manufacturing different types of caskets for many years. They supply high quality products; their caskets all have intricate designs and secure locking systems. As a leading casket manufacturer, MillionaireCasket.com is well known in the industry for providing high-quality caskets.
About MillionaireCasket.com
MillionaireCasket.com is a leading casket company that focuses on the business of casket wholesale. This company offers an exquisitely crafted line of all kinds of metal caskets, solid wood caskets, veneer caskets, cremation caskets, rental caskets, orthodox caskets, infant or over-sized caskets and European style coffins. The standard quality control policy is strictly applied here, and a third party quality assurance is also available. More information can be found at http://www.millionairecasket.com/72-walnut-caskets.