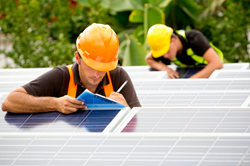 Renewable Energy Investments like Solar Farms are becoming some of the most sought after investments in the U.S.
Asheville, NC (PRWEB) October 31, 2014
Solar farms are yielding large renewable energy investment groups double digit returns these days, so it's no coincidence that some of the largest investment funds in America are actively seeking to purchase the entire portfolio of 2015 projects from ISS. Large investment funds are currently spending billions on solar and can't seem to find enough projects in which to invest. Large solar farm projects that can be online in 2015 so that the tax credits can be utilized in that calendar year are of particular interest.
Most investment funds these days have all increased the amounts of energy investments in portfolios from a minimum of 1% to at least 5-10% and due to the lower risk that solar farms offer most are aggressively seeking massive solar farm projects where installed costs can be minimized while maximizing long term profits. Innovative Solar Systems, LLC is in negotiations with many of the largest renewable energy investors in the country for partnerships that would not only involve the companies 2015 projects but could possibly involve gigawatts of projects over the next five years that ISS is developing in many solar friendly states here in the U.S.
CEO of Innovative Solar Systems, LLC, John Green just returned from the annual Solar Power International trade show in Las Vegas, Nevada where many of the company's current projects were showcased to renewable energy investment groups. Most of the projects that ISS has in the company's current portfolio range in size from 25MW to 100MW which make these investments range from $50MM to approximately $200MM each. ISS's total portfolio of projects in NC alone far exceed the billion dollar mark states Green of ISS. For any information about Innovative Solar Systems, LLC or for investor relations please call (828)-215-9064.