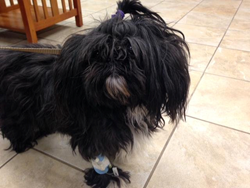 Oakdale, MN (PRWEB) October 31, 2014
Animal Emergency & Referral Center of Minnesota recently cared for a dog who had been hit by car, and with the help of the dog's microchip, they were able to reunite the dog with his owners who had been missing him for a year.
On Oct. 5, the male Shih Tzu mix dog, named Motor, was brought into the Oakdale location. Emerald City Rescue brought him in after he was hit by a car. Motor appeared to have gone between the wheels, which was fortunate, and other than heavily matted fur, he was in good condition.
At the clinic, Motor was scanned for a microchip, and luckily, one was detected. Just a few short hours later, his owners were located and notified of his whereabouts. When the owners came to retrieve Motor, they reported that the poor dog had been stolen from their yard over a year ago.
So far, Motor is doing great. His owner will have to watch him closely to make sure no signs of injury or trauma from the car incident arise in the next several days.
If Motor hadn't been microchipped, he stood only about a 15 percent change of being reunited with his owners. Microchips, encoded with an identification number and inserted between a pet's shoulder blades, are a quick, painless procedure that costs about $50. The pet's microchip number needs to be registered with the microchip company's database right away.
Be sure to always keep the database information current, and be forewarned: microchips can move around inside the pet and mat travel to the pet's neck or leg. At every veterinarian visit, have the pet scanned for the microchip to ensure that it is still working and hasn't relocated from its original spot.
Since Motor was stolen, his ID tags may have been removed. Usually, however, if a pet is wearing an ID tag, he/she will likely get home more quickly if lost on the weekend or over a holiday when veterinary clinics may be closed. Only about 15 percent of dogs and 2 percent of cats who end up in shelters without an ID tag or microchip make it back home again.
Animal Emergency & Referral Center of Minnesota believes that every pet should always have ID tags in addition to a microchip. Don't wait until it's too late; get ID tags and a microchip for pets today.
About the company:
Animal Emergency & Referral Center of Minnesota (AERC) started out with one clinic, one veterinarian, and one technician. Today, they employ a wide variety of doctors and health care team members – all specially trained in emergency and critical care--in addition to a growing referral practice for when pets just aren't feeling like themselves. For more information, please visit their website at http://aercmn.com.