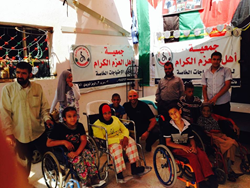 It's not about race or religion; it's about being human.
Lockport, NY (PRWEB) October 31, 2014
After capturing the World Kickboxing Association's Intercontinental Kickboxing Title and the no. 2 world ranking last June, undefeated cruiserweight Amer Abdallah took a different type of vacation. He and his wife decided not to take their normal post-fight vacation to an island or relaxing resort, but instead they recently visited one of the largest refugee camps in Jordan located just outside the capital city of Amman, called Al-Baqaa.
Always proud of his heritage and background, the U.S. born Jordanian-American felt it was time to see and feel what he was reading about daily back in his native country of Jordan.
"My whole life, I've been blessed to grow up in the beautiful United States of America with basics like hot water, electricity and a particular standard of living at my fingertips," Abdallah said. "After the biggest win of my career, we decided to do something a little bit different than a relaxing vacation. I wanted to witness firsthand the struggles that millions of people around the world face in order to appreciate their struggle and help in any way we can."
Abdallah arranged a goodwill tour in the Baqaa Refugee Camp in Jordan and spent several days visiting disabled and poverty-stricken children and families.
"It's just heartbreaking to see how some of these young children grow up," said Abdallah. "Everything is a challenge in their lives, from running water to eating to having a warm bed to sleep on at night."
After spending several days in the camp with many of the children, Abdallah felt he was a part of the group.
"These people have absolutely nothing, although are so generous and hospitable that they are willing to give you the shirt off of their backs," he said.
Prior to departing back to the United States, Abdallah and his wife generously donated to the youth of the refugee camp with money, food and basic living essentials.
"We are so happy that we made this choice and God willing, will continue our donations to these wonderful people. It's not about race or religion; it's about being human," Abdallah stated.
For more information on Amer Abdallah, his upcoming events and career, visit http://www.amerabdallah.com or follow him on Facebook - Amer "Al Mahseeri" Abdallah.