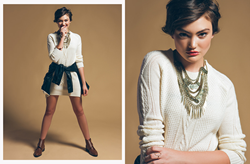 We love sweater dresses for fall
LOS ANGELES, Cali. (PRWEB) November 03, 2014
GoJane is a popular online retailer of young women's clothes, shoes and accessories that is best known for its affordable prices and up-to-date trends. For the fall season, GoJane will release a lookbook of knitted trends and how to wear them. Items include sweaters, knit dresses, hats and other accessories.
The classic knit sweater is a trend that never goes out of style, and GoJane's collection of knits includes sweaters in all styles and sizes. Chunky, oversized sweaters are paired with skinny jeans and boots, while cropped sweater tanks are styled with high-waisted pants or skirts. Sweater dresses are unique alternative to the traditional sweater, and they add a feminine flair to the usual boxy fit.
"We love sweater dresses for fall because they can be styled so many different ways," says GoJane blog editor Malinn Cisneros. "Slim-fitting sweater dresses have a sexy and causal look that looks great with jeans, while looser, more casual dresses can be worn with thick leggings and combat boots for a bit of an edge."
Knits are also incorporated throughout the lookbook's collection of fall accessories, from hats to socks. Classic knitted beanie caps come in a variety of fits and colors, while knee-high or thigh-high socks are meant to wear over tights or bare legs. There are also knit headbands to keep the ears warm, gloves and mittens in a number of styles and even boot cuffs to tuck inside of a stylish pair of fall boots.
The entire knit collection will be available for the affordable prices that GoJane is known for.
GoJane is an online retailer of fashion-forward apparel for progressive young women. The website offers all of the latest trends in clothing and accessories for a fraction of the cost of designer brands. GoJane's helpful customer service team is available five days a week, and their 30-day return policy makes finding the right size fast and easy.