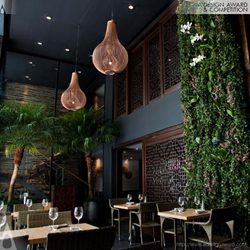 Como, Italy (PRWEB) October 31, 2014
A' Design Award and Competition is pleased to announce that the interior design work Osaka has been acknowledged with a coveted Golden A' Design Award in Interior Design Competition.
Winner Design: Osaka
Ariel Chemi, the lead designer of the awarded work Osaka says "Located in Itaim Bibi neighbor (Sao Paulo, Brazil), Osaka's architecture offers an intimate and cozy ambiance. The outdoor terrace next to the street is the entrance to a green and modern courtyard, a urban vacuum that connects interior, exterior and nature. The private and sophisticated aesthetic was materialized with the use of natural elements such as wood, stones, iron and textiles. Lamella roof system with dim lighting, and wood latticework were carefully studied in order to complete the harmonizing interior design, in order to generate the different ambiances and spaces." Learn more at: http://www.adesignaward.com/design.php?ID=29685
Project Members for Osaka - Sao Paulo
Osaka - Sao Paulo was realized by Architect & Interior Designer: Ariel Chemi and Architect Carina Korman..
The Golden A' Design Award
The Golden A' Design Award is a prestigious award given to top 3% percentile designs that has carried out an exemplary level of excellence in design. Entries to the A' Design Award & Competition are peer reviewed and anonymously judged by a 50-person distinguished jury panel of architects, designers, press members and academics. Laureates of the A' Design Award & Competition receive an extensive public relations and promotion package that helps celebrate the success of winning the design accolades. Award winners are invited to join Prime Clubs such as the International Association of Designers and are further invited to become World Design Consortium partners. Awarded entries are physically exhibited in multiple countries, and winners are invited to join a gala-night and award ceremony in Italy to collect their trophies, yearbooks and design excellence certificates.
About A' Design Award and Competition
The A' Design Award and Competition aims to recognize, highlight and promote the very best design work from all disciplines and in all countries in order to create a global awareness for good design. The ultimate aim of the competition is to push designers, architects and companies to deliver superior designs that improve the quality of life. To learn more about the A' Design Awards, please visit: http://www.whatisadesignaward.com