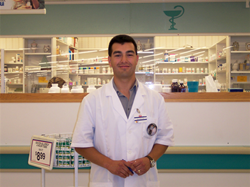 I signed onto Progene Healthcare Network to help men of a certain age understand what Progene® can do for them -- and to make it easy for me to recommend the supplement.
Cincinnati, OH (PRWEB) November 03, 2014
Pharmacists are trained to understand how medicines work in the body and to identify interactions that occur among prescription and non-prescription medications. Mark Landman, Ohio registered PharmD, talks to Judith Hokanson, Progene Healthcare Group Director, about why it's important to build trust with a neighborhood pharmacist.
JH: Mark, what brought you into the Progene Healthcare Network?
ML: A Progene® research study caught my interest. It was unusual to see a company risk publically testing a product to see how well it works – and to publish the results. That was ten years ago.
JH: And now?
ML: I've always been drawn to the natural herbal ingredients in Progene®'s formula. I signed onto the network to help men of a certain age understand what Progene® can do for them -- and to make it easy for me to recommend the supplement.
JH: What do you mean by the word understand?
ML: To understand Progene® is to know how the formula works with men's bodies as well as how each herb contributes to the overall effect. Understanding Progene®, for me, includes helping to direct millions of baby boomers away from deceptive "fly by night" and copy-cat brands that advertise on the Internet today and disappear in a week.
JH: Longevity equals success?
ML: Definitely in this case. Being on the market for over 11 years bears out Progene®'s safety and effectiveness.
JH: What were you saying about the herbal ingredients in Progene®?
ML: I feel that the combination of herbs in Progene®'s formula gives men a stark advantage. As a scientist, I can appreciate the benefits from DHEA, L-Arginine, licorice root, ginseng and lycopene. These herbs in themselves help men with sex drive and mental clarity. Plant-based medicines are an integral part of human history – and today, herbal medicines are everywhere, from doctors' offices to grocery store shelves.
JH: How can doctors diagnose low testosterone if men are hesitant to mention symptoms?
ML: Take chiropractors. They can spot loss of muscle mass with a simple massage. All docs can start their own low "T" dialogue by having a questionnaire handy. Progene's network gives its healthcare participants an intake form with 8 basic low-t questions that can be attached to charts of men of a certain age.
JH: You say, 'Of a certain age' again. Over 35?
ML: That's about right.
JH: Any advice to men feeling typical signs of low testosterone like fatigue, lack of passion and performance?
ML: Sure. Ask Questions. Always ask questions of your family doctor, your pharmacist or both. Don't cover up your aches and pains. Signs of low testosterone shouldn't cause panic. That's where the trusted doctor and neighborhood pharmacist come in: They help men find the right medication within their budget. In my opinion, Progene® is the number one natural supplement for low testosterone.
JH: Thanks for taking the time to talk with me, Mark.
ML: You're welcome. By the way, I'm 55 and I've been taking Progene® for two years. I can say, obviously first hand, that the herbal formula helps increase my energy and mental clarity. I've even lost a few pounds!
How to join the Progene Healthcare Network? Go to http://www.ProgeneHealthcare.com. Signing on takes 30 seconds -- and there is never a cost or fee.
About Progene®
For over 10 years, Progene® continues to lead the low-testosterone market by addressing the natural decline of testosterone levels in men as they age. Progene's® unique formula contains more than 15 botanical extracts and clinically proven testosterone precursors that help provide men the ingredients needed to naturally produce more testosterone.
Progene® continues to evolve and innovate. Not only is Progene® the only supplement brand in the country with an At-Home Testosterone Test Kit, but also the only brand with a national network of healthcare professionals who recommend Progene®.
Progene® is sold nationwide at Costco, Rite Aid, GNC Stores, Meijer, Stop & Shop, Bi-Lo Winn-Dixie, Vitamin Shoppe, Drugstore.com, Sears Marketplace, Harris Teeter Groceries, Brookshire's Food & Drug, Vitacost.com, LuckyVitamin.com, and more than 150 other local and regional retailers.
For more information about Progene® products, call 888-PROGENE, visit Progene.com, or go to facebook.com/800PROGENE.
PR Contact: Judith Hokanson at 513-477-7973 or toll free at 877-887-9409