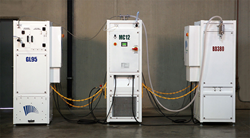 Chico, CA. (PRWEB) October 31, 2014
Springboard Biodiesel, a California-based biodiesel equipment manufacturer, best known for its small scale BioPro™ biodiesel processors, announced on Thursday the release of automated equipment that will further improve the performance and efficiency of small-scale biodiesel producers throughout the country.
The GL95/MC12/BD380 trio will recover more than 99% of the excess methanol that is mixed in with the glycerin by-product produced while making biodiesel. After the methanol is recovered at a purity of approximately 98%, the equipment will then eject a quickly cooling block of glycerin soap.
This trio of equipment will also remove and recover excess methanol from biodiesel that rates too high for sale, based on methanol content. This can be a factor for groups that are using a drywash system to filter and clean their raw biodiesel after it has been produced.
"In the biodiesel production world, some groups struggle to manage their glycerin disposal, others struggle to meet ASTM-grade when using a drywash system," says Springboard CEO Mark Roberts. "Recognizing this, we have turned their struggle into an opportunity with the elegant and automated GL95/MC12/BD380 trio. Not only will a biodiesel producer recover the vast majority of the extra methanol used in the reactions, but the equipment will also cast the remaining material into a large block of soap and glycerin, giving a small scale producer more options for revenue."
The equipment shown in the photograph is the fifth released version of this equipment and was sent to a community college in WA. State.
The equipment is operated from a touchscreen pad mounted on the side of a shared condenser (The MC12) and is, according to Springboard, universally compatible with any biodiesel processing equipment.
Roberts adds, "A lot of people say they can demethylate glycerin, but can they do it safely, reliably and at this high purity with an automated touch screen? We have done some fairly exhaustive research into what other products are available on the market that perform the functions of the G-95. We have not yet found anything that works at this capacity, that has this level of construction, and is automated, for anything less than 3 times the price."
For 7 years, Springboard has been making small-scale biodiesel processing equipment under the trademarks of BioPro™ and SpringPro™. The BioPro™ is an automated appliance that allows operators to make ASTM-grade fuel from used cooking oils. Units are now in operation in 24 countries, all 50 states and a list of notable customers includes well-known restaurants, more than 70 US colleges and universities, car companies and federal prison and military installations.
If a business can collect its cooking oil for free, the total cost to make this diesel-replacement fuel is less than 95 cents per gallon. 95 cents is the cost of all the other inputs, including electricity, required to convert the oil into fuel. Once the appliance has made the conversion, this clean-burning fuel can be pumped directly out of the BioPro™ and into a diesel engine. No engine modification is required.
According to a report by the California Air Resources Board, biodiesel made from used cooking oil emits 90% less CO2 and about 50% less particulate matter than regular diesel.
About Springboard Biodiesel:
Springboard Biodiesel is a clean-tech biodiesel equipment manufacturer based in Chico, CA. For seven years, the company has been manufacturing and selling small-scale biodiesel processing equipment, under the brand names BioPro™ and SpringPro™, to institutions and businesses that can gain access to recycled vegetable or animal oils. Springboard's appliances enable the production of ASTM-D6751 grade biodiesel for a fraction of the cost of the regular diesel it replaces.
With the help of a grant from the California Energy Commission, the company opened a biodiesel production facility on May 1, 2014. The facility produces from locally collected used cooking oil, and turns it into ASTM-grade biodiesel for sale to local diesel/biodiesel users.