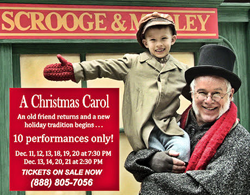 Franklin County PA (PRWEB) October 31, 2014
Family times are the best part of the holiday season, and the Franklin County Visitors Bureau invites the public to make some family memories this holiday season at one of Totem Pole's classic performances of A Christmas Carol at the historic Capitol Theatre in downtown Chambersburg. Totem Pole, working with the Chambersburg Community Theatre, brings the Charles Dickens' holiday story of compassion, forgiveness, and change to the Capitol stage. A Christmas Carol opens December 11 and runs through December 21 for ten performances. Tickets are on sale now--online at http://www.totempoleplayhouse.org or by contacting 888-805-7056.
Totem Pole's production of the holiday classic was a fixture during the holiday season in the Cumberland Valley for many years, beginning in 1987 at Chambersburg's Central Center and later moving to the historic Capitol Theatre in downtown Chambersburg where it was last presented in 2004.
Paris Peet appeared in several productions at Totem Pole Playhouse including last season's hit comedy The Foreigner and will play the role of Ebenezer Scrooge. Peet teaches performance classes in the Theatre Arts Department at Shippensburg University. He is a member of Actors Equity Association and has appeared at regional and summer theatres including The Alley Theatre, The Shakespeare Theatre, Charlotte Repertory Company, The Houston Shakespeare Festival, and The East Carolina Playhouse.
Performances of A Christmas Carol are scheduled for December 11, 12, 13, 18, 19, 20 at 7:30 PM with matinees on December 13, 14, 20, 21 at 2:30 PM. Ticket prices are $36 or $33 for adults and $20 for students (age 18 or younger).
Plan your family, holiday outing and enjoy other holiday events by visiting ExploreFranklinCountyPA.com and DoDineStayFranklinCountyPA.com/holiday. Discover all of Franklin County's great holiday events here.
The Franklin County Visitors Bureau invites all to explore Franklin County PA and enjoy the history, arts and entertainment, recreation and natural beauty, and the fresh foods and warm hospitality of charming communities like Chambersburg, Greencastle, Mercersburg, Shippensburg, and Waynesboro. Franklin County PA is located just north of the Mason Dixon Line and an easy drive to Washington DC, Philadelphia, and Pittsburgh. Discover more....plan your visit at ExploreFranklinCountyPA.com or by contacting 866.646.8060.