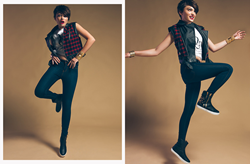 This season we're looking forward to wearing more unexpected pops of plaid
LOS ANGELES, Cali. (PRWEB) November 06, 2014
Young women's online clothing retailer GoJane recently launched a collection of new plaid pieces for fall and a corresponding lookbook to go along with them. The collection includes classic plaid shirts, other clothing items and plaid accessories, and they are all available for the low prices that GoJane is best known for.
Plaid shirts were first made popular by the grunge clothing trend of the 90s, but GoJane offers plaid shirts in a wide variety of different styles. Traditional plaid button-down shirts, plaid peplum tops and even plaid crop tops are all represented, as are plaid tunic shirts that can be paired with tights or leggings.
For those who prefer to wear plaid in a more unexpected way, the collection also features plaid bottoms like red skinny jeans and chambray joggers. Plaid dresses and skirts are also popular for fall, and they come in both mini and midi lengths.
"Although plaid is always popular for fall clothing, this season we're looking forward to wearing more unexpected pops of plaid," says GoJane blog editor Malinn Cisneros. "GoJane carries distressed denim with plaid patches peeking out and even preppy oxford shoes with plaid details."
For those who prefer to wear plaid in their accessories rather than their clothing, the collection also includes plaid scarves and hair pieces that can be paired with a simpler outfit so that the pattern isn't overwhelming. Plaid scarves come in either thick, chunky styles or thinner knits, while tartan headbands are great for chilly weather.
From minimal accessories to all-over clothing styles, GoJane's latest collection offers a number of ways to wear plaid for an affordable price.
GoJane is an online retailer of fashion-forward apparel for progressive young women. The website offers all of the latest trends in clothing and accessories for a fraction of the cost of designer brands. GoJane's helpful customer service team is available five days a week, and their 30-day return policy makes finding the right size fast and easy.