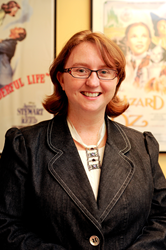 Greensboro, NC (PRWEB) November 18, 2014
The NBCC Foundation, an affiliate of the National Board for Certified Counselors, Inc. (NBCC), recently awarded a 2014 Center for Credentialing & Education (CCE) professional development award to Kim Allen, of Raleigh, NC. The goal of this scholarship program is to advance the professional identity and development of CCE credential holders. Allen will receive $500 to advance her professional identity and development.
Dr. Allen is graduate program director, associate professor and extension specialist in the Department of Youth, Family and Community Sciences at North Carolina State University in Raleigh. She is a Board Certified Coach (BCC) and holds a Ph.D. in psychology from Capella University. Dr. Allen has over 16 years' experience working with youth and their families as an early childhood educator, marriage and family therapist, parent educator, administrator, and faculty member.
During her tenure, Dr. Allen has lead numerous research projects focusing on curriculum and program development for underserved audiences and has presented at national and international conferences on the topics of parenting, family coaching, teaching with technology, bullying and relationship education. Dr. Allen serves on the executive board of the National Parenting Education Network, and is cochair of the North Carolina Parenting Education Network.
For more information or to make a donation, visit http://www.nbccf.org. CCE, a platinum sponsor of the Foundation, provides the funding for this award. More information about CCE credentials is available at http://www.cce-global.org.
###
About the NBCC Foundation
The NBCC Foundation is an affiliate of the National Board for Certified Counselors (NBCC), based in Greensboro, North Carolina. NBCC is the nation's premier professional certification board devoted to credentialing counselors who meet standards for the general and specialty practices of professional counseling. Currently, there are more than 56,000 National Certified Counselors (NCCs) in the United States and more than 50 countries. The Foundation's mission is to leverage the power of counseling by strategically focusing resources for positive change.