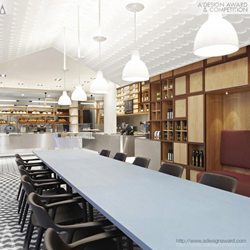 Como, Italy (PRWEB) October 31, 2014
A' Design Award and Competition is pleased to announce that the interior design project Das Brot. by Designliga Büro Für Visuelle Kommunikation Und Innenarchitektur has been granted the renowned Golden A' Design Award in Interior Space and Exhibition Design Competition.
More information on Das Brot.
Designliga Büro Für Visuelle Kommunikation Und Innenarchitektur, the creative team behind the award winning interior design project Das Brot said: ""Das Brot." is the bread bakery and restaurant of Volkswagen Group's highly frequented communication platform Autostadt in Wolfsburg, Germany. The basic philosophy "From Field to Counter", describes the value creation process involved in producing bread. From the clean, clear lines of the 'workshop' area to the homely familiarity of the long table where guests sit down together, the feeling created by the restaurant space shifts and transforms. The integrated design concept shows off high-quality local materials and has a focus on traditional artisan crafts." Learn more about this design: http://www.adesignaward.com/design.php?ID=29830
Design Team for Das Brot.
Das Brot. was conceived by CEO and Creative Director Saša Stanojčić, CEO and Creative Director Art Andreas Doehring, Head of Interior Architecture and Design Christina Koepf and Architect Sebastian Blum
The Golden A' Design Award
The Golden A' Design Award is a prestigious award given to top 3% percentile designs that has attained an exemplary level of perfection in design. Entries to the A' Interior Design Awards are peer reviewed and anonymously voted on predetermined evaluation criteria by a grand jury panel of design professionals, architects, press members and scholars. Laureates of the A' Design Award and Competition are granted as a series of marketing and publicity services to promote and celebrate the winners. Award winners have the ability to access and make use of platforms such as Buy Sell Design, Design Mediators and are included in World Design Rankings and Designer Rankings. Award winning works are exhibited in multiple cities worldwide and the winner designers and architects are invited to attend the gala-night and award ceremony in Italy to get their trophies, yearbooks and certificates for design excellence.
About A' Design Award and Competition
A' Design Award & Competition was designed and developed as a tool to promote good design practices and principles worldwide with a hope to create a global awareness for good design. By creating a global awareness for good design, the competition aims to create demand for better products and projects that make use of good design practices and principles, which in turn, creates additional value for the society. Learn more about the A' Design Awards at: http://www.whatisadesignaward.com