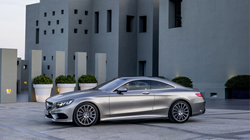 Arlington, VA (PRWEB) November 03, 2014
Mercedes-Benz of Arlington is thrilled to announce the arrival of the newest addition of the world's best-selling luxury coupe, the 2015 S-Class S550 Coupe. The ingenuity of Mercedes-Benz outshines itself once again, proving that the best can only get better. The brand new S550 Coupe exemplifies the three core values represented by the emblematic three-pointed Star: tradition, emotion and progressiveness.
According to Gordon Wagener, Vice President Daimler AG, "Our new S-Class Coupe is one of the most gorgeous coupes of all time," a powerful statement considering the history of dominance by the S-Class in the market of luxury coupes.
Flawlessly achieving the design team's goal of "sensual purity," this sleek and sporty two-door model is the perfect combination of timeless elegance and high-tech modernism. Precise surface lines and frameless doors emit a steamy emotion typical of a Coupe, yet unprecedented in potency. Standing at 75 inches and stretches 198 inches long, the S550 Coupe features progressive advancements: optional installation of 47 Swarovski crystals on the headlights for extra shine while you drive, and a panorama roof with MAGIC SKY CONTROL® to adjust transparency.
The S550 Coupe upholds Mercedes-Benz traditions by providing an unrivaled emotional driving experience. This 4MATIC® vehicle hauls a 4.7 biturbo engine, outputting 449 horsepower and a torque of 516 lb-ft. The exhaust system, incorporating flaps that open and close according to engine speed, roars the riveting sound of sporty driving. With the debut of active tilting function, the S550 leans into curves similar to a motorcyclist, reducing the lateral acceleration acting upon occupants and thus providing maximum comfort in the driver's seat — perfect for cruising Virginia's back country roads.
The breathtaking aesthetics and performance of the 2015 S-Class Coupe is further accentuated by numerous features that continuously remind every driver they are behind the wheel of a renowned Mercedes-Benz. A demonstration of prodigious interior architecture, the dashboard extends from door to door, relaying a "wrap around" effect which guarantees minimal distraction while driving. Other standard safety features include PRESAFE PLUS® rear-end collision protection, DISTRONIC PLUS® with Steering Assist®, and PRESAFE® Brake with Pedestrian Detection® will even automatically apply brakes in a detected emergency.
The 2015 S550 Coupe has brought "sensual purity" into the showroom at one of Mercedes-Benz largest and oldest dealerships. The sales team at Mercedes-Benz in Arlington is ready to oblige costumers seeking not only an attractive, reliable sports vehicle, but a luxury driving experience.
Interested parties may contact a Mercedes-Benz of Arlington representative at (888)-391-2533 or visit http://www.justmercedes.com to find out more about all of the outstanding offers at Mercedes-Benz of Arlington.
About Mercedes-Benz USA
Mercedes-Benz USA (MBUSA), headquartered in Montvale, New Jersey, is responsible for the distribution, marketing and customer service for all Mercedes-Benz products in the United States. MBUSA offers drivers the most diverse line-up in the luxury segment with 14 model lines ranging from the sporty C-Class to the flagship S-Class sedans and the SLS AMG® GT.
MBUSA is also responsible for the distribution, marketing and customer service of Mercedes-Benz Sprinter Vans, and smart products in the U.S. More information on MBUSA and its products can be found at http://www.mbusa.com, http://www.mbsprinterusa.com and http://www.smartusa.com.
For full bios and photos visit the MBUSA Media Site, http://www.media.mbusa.com.