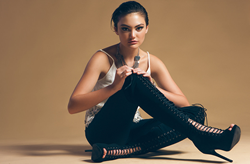 Flat over-the-knee boots can be just as sleek and feminine as heeled styles as long as you know how to wear them
LOS ANGELES, Cali. (PRWEB) November 12, 2014
GoJane is an online women's clothing retailer that is most well-known for offering the latest fashion trends at very low prices that young women can afford. The site recently launched a collection of over-the-knee boots that includes affordable takes on the designer trend. These shoes include both flat and heeled boots that extend above the knee for a high fashion look.
Most people think of sexy, heeled styles when they imagine over-the-knee boots, and GoJane offers a number of high-heeled options for fans of this look. Daring stiletto boots come in a variety of styles and colors, from neutrals like white and black to eye-catching leopard print options. GoJane also carries heeled over-the-knee boots with laces, open toes and cutouts for an edgier look.
"Flat over-the-knee boots can be just as sleek and feminine as heeled styles as long as you know how to wear them," says GoJane blog editor Malinn Cisneros. "We carry flat options in soft colors that have a bit of a slouchy look, and they pair perfectly with slim-fitting skinny jeans or thick leggings for fall."
These flat over-the-knee boots come in a variety of styles, and they're made with imitation leather and suede materials that look just like the real thing for a more affordable price. Many of these styles also feature buckles, straps and fringe details that keep them perfectly on trend.
While most over-the-knee boots from top designers come with a hefty price tag, GoJane offers the very same looks for affordable prices that are accessible to any shopper.
GoJane is an online retailer of fashion-forward apparel for progressive young women. The website offers all of the latest trends in clothing and accessories for a fraction of the cost of designer brands. GoJane's helpful customer service team is available five days a week, and their 30-day return policy makes finding the right size fast and easy.