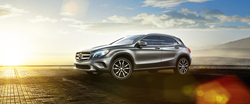 Arlington, VA (PRWEB) November 04, 2014
The all-new GLA-Class of 2015 introduces two new models that will break the boundaries of a standard SUV: the GLA250 4MATIC®, available in front-drive next spring, and the GLA45 4MATIC® AMG®. The smallest SUV on the market, the GLA-Class offers the convenience of more space and a larger exterior with the pristine design and performance promised by the three-pointed star mounted proudly on the grill. Sharing a base platform with the CLA-Class Sudan, the new GLA-Class has arrived at Mercedes Benz of Arlington well-equipped with systematic improvements and the best innovations technology has to offer.
These new 2015 models couldn't rightfully wear the Mercedes-Benz star without exemplifying world-class style from the interior outward. The GLA250 4MATIC® stands just slightly taller than its CLA-Class Sudan sibling, with a stretched-out build sitting on 18-inch wheels for a bold, beefy look and 4-wheel independent suspension for strong, responsive performance. The GLA45 AMG® sits 2-inches lower than the GLA250 at 58.5 inches, for those who prefer a sporty, sleeker aesthetic. Chrome details add a classic Mercedes-Benz shine, while the interior upholds lofty standards with a power liftgate, a wing-like dashboard, and 43.6 cubic feet of rear cargo to prove these stylish vehicles deserving of their SUV classification.
Both the GLA250 4MATIC® and the GLA45 AMG® Performance 4MATIC® are equipped with a turbo-charged 2.0-liter engine run by a seven-speed, twin-clutch automatic transmission. Dominant all-wheel drive and one-touch, off-road mode makes for smooth cruising on various terrains for drivers who adventure off the pavement. The GLA250 runs with agility and excellence at 208 horsepower and 258 lb-ft of torque, accelerating from 0 to 60mph in just 7.1 seconds. The GLA45 AMG® provides a bit more power behind the pedal. Rendering 355 handcrafted horsepower, 332 lb-ft of torque and hitting 60mph in just 4.3 seconds, this luxury SUV is the most powerful 4-cylinder in production.
Always a top priority at Mercedes-Benz, the 2015 GLA-Class employs the highest standards of safety and usability technology. A freestanding color screen on the dashboard supplies drivers with optimal entertainment and information at an arm's reach, with Bluetooth audio streaming for simple and safe navigation, music and online features. The GLA-Class comes with radar-based COLLISION PREVENTION ASSIST PLUS® to ensure maximum security against accidents, and ATTENTION ASSIST® notifies when a driver is getting drowsy. Also available is the Blind Spot Assist® and Lane Keeping Assist® to further facilitate a safe, smooth and easy ride.
Mercedes-Benz of Arlington is excited to premier the new GLA-Class of 2015 to consumers seeking the size and practicality of a compact SUV with the performance and class of a Mercedes-Benz. The GLA250 4MATIC® and the GLA45 4MATIC® AMG® are sure to redefine the concept of an SUV and mark a prominent place in the world of luxury automobiles.
Interested parties may contact a Mercedes-Benz of Arlington representative at (888)-391-2533 or visit http://www.justmercedes.com to find out more about all of the outstanding offers at Mercedes-Benz of Arlington.
About Mercedes-Benz USA
Mercedes-Benz USA (MBUSA), headquartered in Montvale, New Jersey, is responsible for the distribution, marketing and customer service for all Mercedes-Benz products in the United States. MBUSA offers drivers the most diverse line-up in the luxury segment with 14 model lines ranging from the sporty C-Class to the flagship S-Class sedans and the SLS AMG® GT.
MBUSA is also responsible for the distribution, marketing and customer service of Mercedes-Benz Sprinter Vans, and smart products in the U.S. More information on MBUSA and its products can be found at http://www.mbusa.com, http://www.mbsprinterusa.com and http://www.smartusa.com.
For full bios and photos visit the MBUSA Media Site, http://www.media.mbusa.com.