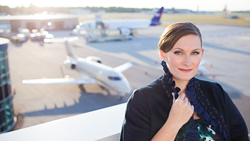 "I think every woman should have that go-to suit that she puts on to get the job done and feels great while doing it."
Burlington, VT (PRWEB) (PRWEB) November 03, 2014
CatherineScholze, a direct-sales clothing line, has launched a made-in-the-USA business attire collection focused on enhanced fit for curvy professional women.  
Based just outside of Burlington Vermont, CatherineScholze has launched with a new Fall / Winter 2014 professional business attire collection designed for curvy women in sizes 8-20 that have trouble shopping in either standard Misses or Plus Size departments. All products are manufactured in the USA from ethically sourced materials. The line features natural fibers, such as wool and silk. 
The company spent five years developing styles that enhance a woman's curves, travel well, and have a down-to-business sensibility. 
"I worked closely with Sarah Veblen, a well-known fitting expert and Baltimore MD custom clothier, to develop business-appropriate styles that enhance rather than hide our curves," said Catherine Griffiths Scholze, President and Creative Director at CatherineScholze.  "I think every woman should have that go-to suit that she puts on to get the job done and feels great while doing it."
Social responsibility is one of the stated values of the company, and it donates a percentage of Vermont sales to Dress for Success Burlington as a Suitings Program Sponsor.  It plans to work with each region to support local charities sponsored by its clients.  "Community support is an important aspect of the company.  It's why I insist on producing in the USA and using ethically-made fabrics, and it's why I work with our clients to support people within each community that we serve," said Scholze.
The company has elected to sell directly to their customers, and works closely with wardrobe consultants and professional stylists to help fit clients and build strong work and travel wardrobes.
The Fall / Winter 2014 collection of curve-enhancing career wear for professional women can be viewed and purchased on the http://catherinescholze.com/ website, or viewed at trunk shows in select US cities throughout the fall.  Details can be found on the website.