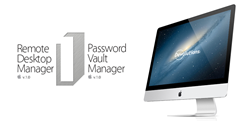 We committed the necessary time, budget and other resources to build a native Mac platform.
(PRWEB) November 03, 2014
After more than a year of development and beta testing, Canadian-based enterprise software firm Devolutions has officially released Mac versions of its globally popular Remote Desktop Manager (PVM) and Password Vault Manager (PVM) solutions, respectively.
The two releases, which come only weeks after Devolutions launched major new Windows versions of both Remote Desktop Manager (v10) and Password Vault Manager (v6), were created by a specially-recruited team of experts who were empowered to build a native Mac platform from the ground up.
"Mac users are fed up with getting flimsy Windows duplicates," commented Devolutions' CEO founder and CEO David Hervieux. "That's why since day one, we committed the necessary time, budget and other resources to build a native Mac platform. While we love being efficient here, as a company we've never taken short cuts when it comes to quality assurance and serving users, and we never will."
IT pros who install Devolutions' new Mac versions will enjoy many of the same features and functions available in the Windows version, including the ability to:

Access a huge suite of integrated tools, including TeamViewer, Microsoft Remote Desktop, SSH, Telnet and more
Create local templates and shared templates
Set user security groups
Organize sessions by groups and folders
Access Quick Search & Quick Connect
Connect to a variety of data sources, including: Remote Desktop Manager Server, Remote Desktop Manager Online, Microsoft SQL Server, MySQL, Dropbox, Amazon, Maria DB, FTP, Microsoft Access, FTP and more
In addition, IT pros who use both Mac and Windows versions in their environments will be able to connect to the same database, which efficiently and conveniently gives them access to all of their previous sessions.
"There are many people to thank for this historic milestone," added Mr. Hervieux. "Our team of experts worked very hard and really went above and beyond to get this right. And the incredibly community of IT pros who participated in the beta program gave us invaluable feedback. We hope that they enjoy RDM and PVM for Mac, and use them often to centralize, secure and simplify IT!"
IT pros can download the new Remote Desktop Manager for Mac from http://mac.remotedesktopmanager.com/Home/Download, and Password Vault Manager for Mac from http://mac.passwordvaultmanager.com/Home/Download.
A no-cost 30 day trial is available for each solution, and licenses for Mac versions are also valid for Windows versions.
For more information or media inquiries, contact Maxime Trottier, Marketing Director, at (514) 360-3686 or mtrottier@devolutions.net.
About Devolutions
Established in 2004, Devolutions is a Canadian-based company located near Montreal,
Quebec. The firm currently has over 200,000 users in over 90 countries, and is on a mission to develop innovative enterprise software that helps users cost-effectively, simply and effectively achieve their network management, password management, credentials management and security goals. The firm is also committed to providing exceptional technical support, ensuring an excellent user experience that exceeds expectations, and delivering high performance with superior quality. The firm's current roster of solutions includes Remote Desktop Manager, Password Vault Manager, Remote Desktop Manager Online and Remote Desktop Manager Server.
Learn more at http://devolutions.net.