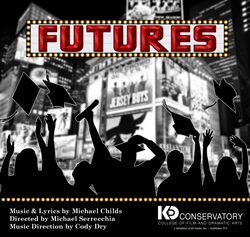 College of Film and Dramatic Arts Presents "Futures"
Dallas,TX (PRWEB) November 02, 2014
Twelve young artists embark on their journeys into life in the entertainment industry, and they tell their stories through song and dance. After graduation and a year out on their own, they are all called back to perform at their Alma Mater for at a benefit show. But things have changed in all their lives. At the heart of their stories is the struggle of discovering who they really are, and the need for love and acceptance. Everyone eventually feels the burden of growing up and the excitement of thinking about who they will eventually become. All twelve of them must step up to the plate and fulfill their destiny because, after all, their Futures are calling.
Then they journey into a world of uncertainty. They journey into a world of chaos, question, and careers. They don't think that their futures will be all that scary, but they don't know for sure.
They can give you the positions in ballet without missing a beat, but they can't tell what the future will hold. No one can. No book ever read can teach what will happen; there is no studying the future until it becomes the present. But they have all had tremendous opportunity to learn from the past. No matter where they go or what they do, there are challenges ahead of them. What they have to do is meet those challenges straight on with their head held high and heart wide open.
They have learned how to live.
Well, they may not have the power to inspire the entire world to strive for success, but they do have the power to try to achieve it for themselves. The challenge is to do all that they can do to reach one's full potential. If each of the students in this graduating class is able to do that, just imagine the effect that would have. The future is truly in their hands.
Michael D'Andre Childs could not be more ecstatic than to have his original musical theatre (http://www.kdstudio.com/) work shown to the world through Black Box productions. It is literally a lifelong dream come true. Michael was last seen singing and dancing in the world premiere of "Broken the Musical" at Gilley's Dallas. He played one of his dream roles as Tom Collins in 2 separate productions of "RENT" at the Trinity River Arts Theatre. He Assistant Directed "Edges" at the Family Arts Theatre in Plano, and sang previously in "The Bells Are Ringing" at Irving Main stage. Michael is a part of the 2015 Musical Theatre graduating class of the KD Conservatory. Hailing from San Antonio, TX, Michael has been busy studying, writing and directing original plays and musicals at "Place for Life" since childhood. He hopes that God receives all the glory and recognition for and from this production. Without Him, there would be no Michael, and thus no songs, and no show. He would also like to extend a special thank you to his family and church family: "Thank you for always believing in me."
Director/Choreographer Michael Serrecchia has assembled an amazing cast of actors for KD Conservatory's production. KD Conservatory's (http://www.kdstudio.com/) "FUTURES" runs November 13, 14, 15, 20, 21 & 22 at 7:30 pm at the KD Conservatory Black Box Theatre, 2600 N. Stemmons Fwy Suite 117, Dallas, TX 75207. Tickets are $15 for adults and $10 for students online and $20 for adults and $12 for students at the door. For tickets, please go to http://www.brownpapertickets.com/event/910224.
Recommended for Mature Audiences, "FUTURES" contains adult language and situations.
About KD Conservatory – College of Film and Dramatic Arts, a subsidiary of KD Studio:
KD Conservatory has been preparing students for work in the entertainment industry through our acting, musical theater (http://www.kdstudio.com/), and filmmaking programs for more than three decades. Since our inception in 1979, we have sent thousands of students into the professional world. Our alumni have gone on to land some pretty high-profile jobs - Glee, CSI, and The Walking Dead, just to name a few. We also offer acting classes and workshops for adults, as well as acting classes, and summer camps for children.
Prior to founding KD Conservatory, CEO Kathy Tyner spent 15 years at the Kim Dawson Agency, working as a producer, booking agent, and general manager. President Gary Tyner Jr. has more than 20 years of experience with Texas career schools. Additionally, the KD Conservatory faculty has a wide variety of experience - ranging from former Broadway musical cast members to the producer of the pilot of the hit TV show Dexter. Their expertise combined helps ensure a stellar educational outcome for all who walk through our doors.
KD Conservatory is accredited by the National Association of Schools of Theatre, and our acting degree program has been rated "Exemplary" by the Texas Higher Education Coordinating Board. We offer Associate of Applied Arts degrees in Acting Performance, Motion Picture Production, and Musical Theatre.
FUTURES
Music and Lyrics by Michael Childs
Directed by Michael Serrecchia
Music Directed by Cody Dry
Produced by Michael Serrecchia
WHEN:
Thursday, November 13th and November 20th at 7:30 PM
Friday, November 14th and November 21st at 7:30 PM
Saturday, November 15th and November 22nd at 7:30 PM
WHERE:
KD Conservatory - College of Film and Dramatic Arts
2600 N. Stemmons Frwy Suite 117
Dallas, TX 75207
TICKETS: