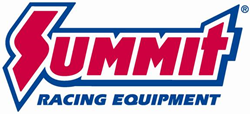 Tallmadge, OH (PRWEB) November 13, 2014
These Summit Racing LS Custom Grind hydraulic roller cams were grounded especially for Summit Racing by COMP Cams—they are not available anywhere else! The cams feature modern lobe profiles that take full advantage of high-flow factory and aftermarket GM LS cylinder heads. The camshafts are tailored for specific RPM ranges and usage, from torque to high-RPM horsepower.
Summit Racing offers 11 different cam profiles:
Mild Performance
Ideal for 4.8, 5.3, and 5.7L engines, this cam offers a greatly improved power band over stock with a 1,500-6,800 RPM power band and a mildly choppy idle.
 
All-Motor Cams
Designed for naturally aspirated engines, Summit Racing offers six cam profiles for engines from mild stock with bolt-ons to all-out race that requires steeper rear axle gears and a high-stall torque converter. Tuning is required with these cams.
Blower and Turbo Cams
Summit Racing has four cam profiles for engines with a supercharger, turbos, or a big nitrous system. These cams have a 1,500-7,000 RPM power band and love high-stall torque converters. Tuning is required.
Applications: 1997-2014 GM LS series engines
SEE ALL SUMMIT RACING LS CUSTOM GRIND CAMS BY COMP CAMS
Summit Racing Equipment
http://www.SummitRacing.com
1-800-230-3030