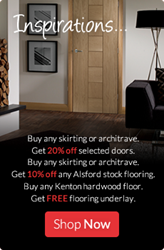 Kent (PRWEB UK) 3 November 2014
Alsford Timber is dedicated to delivering a great online experience for customers and for ensuring that both trade and DIY have comprehensive and relevant information at their fingertips to facilitate ease of purchase. As a part of this strategy Alsford has launched Inspirations: Inspirational Ideas for the home, from Alsford, offering a comprehensive range of second fix products, including:

Buy any skirting or architrave, and get 20% off selected doors
Buy any skirting or architrave, and get 10% off any Alsford stocked flooring
Buy any Kenton hardwood floor, and get free underlay
This promotion aims to provide customers with the opportunity to give their homes a seasonal makeover with a full concept of the companies vision, rather than a piece-by-piece approach.
It is Alsford Timber's aim to provide the best possible path from the initial idea to purchase and the initiative will be supported by a full online marketing drive, including SEO, Google AdWords and a comprehensive Social Media campaign featuring live streams into the homepage of the website, displaying their most recent publications on Twitter and Pinterest on a rolling basis. Along with the social icons added to products across the website, these updates allow visitors to share products directly with friends, family and co-workers, adding value to and improving their customer's experience.
Inspirations not only incorporates their commitment in the investment of delivery to their customers' journey, but also the breadth of investment to provide greater control over the quality and range of products offered.
Commercial Director Finbarr Doyle commented: "The future is online and our business is committed to significant investment in our e-commerce platforms over the next three years. We believe that offering customers' choice, expertise and ease of purchase are key to our future success and we are confident that this strategy will deliver continued growth across the group and extend our lead as the best Timber Merchant in the South East."
About Alsford Timber:
Alsford Timber is the largest independent merchant in the South East, with 18 branches covering Kent, Surrey and Sussex. Now in its 132nd year, the business has remained steadfast to its core values.
Contact Information
Jennifer Fuller, Marketing
jennifer.fuller(at)alsfordtimber(dot)com
01322 344 365
http://www.alsfordtimber.com