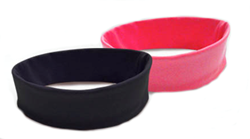 "The improved battery life will only stand to make them more popular among SleepPhones® fans," said Lai.
Erie, PA (PRWEB) October 31, 2014
Beyond an extra hour of sleep, there's yet another good reason to look forward to the fall time change! According to the Heart Foundation, in 2014, 250,000 people will die of heart attacks in the US. That equates to more than 500 heart-related deaths every single day. The good news is, research shows that there's a 10% decrease in heart attacks in the 48 hours that follow the fall time change. AcousticSheep LLC is setting out to help people enjoy that extra hour of sleep during the time change, but also embrace a lengthy night's rest every single day of the year! Announcing improved SleepPhones® Wireless with a longer battery life.
AcousticSheep improved SleepPhones® Wireless in response to customers' requests for a lengthier listening period.
"Our customers loved the original SleepPhones® Wireless, but some were telling us they wished they would hold their charge throughout the entire night," said Wei-Shin Lai, MD, CEO and founder of AcousticSheep LLC. "So we developed a battery that would do just that!"
The older generation of SleepPhones Wireless held a respectable 6-8 hour charge, but the improved SleepPhones® Wireless can hold their charge anywhere from 8-12 hours. People who use them will be able to listen to their relaxation, meditation sounds, or binaural beats all night, therefore enhancing their night's sleep.
The original SleepPhones® Wireless were granted a 2013 International CES Innovations Design and Engineering Award. They hit the market in the fall of 2013 and as anticipated, they've been a top seller in the company.
"The improved battery life will only stand to make them more popular among SleepPhones® fans," said Lai.
SleepPhones® Wireless easily pair with any Bluetooth®-enabled device, are rechargeable via a micro-USB cable (included with purchase), and retail at $99.95. Longevity in battery life, safety and comfort were high priorities in the development of this product. These machine washable headphones for sleep sport a money back guarantee and are available for wholesale now.
About AcousticSheep LLC: AcousticSheep LLC designs and distributes innovative headphones for a variety of lifestyles. Formed in 2007 by a family doctor and her husband, AcousticSheep products are designed with comfort, quality, and the environment in mind. Visit http://www.runphones.com for additional products and information or connect with us on Facebook at https://www.facebook.com/RunPhones.
For additional Press information, images and media, please visit http://sleepphones.com/media. AcousticSheep products have been featured on The Today Show, The Dr. Oz Show, CNN and more.
###