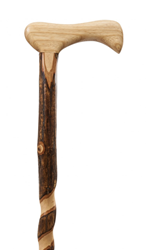 Where Fashion Meets Function
Orlando, Florida (PRWEB) October 31, 2014
Walking-Canes.Net has added a collection of Handcrafted Walking Sticks to the collection of hiking sticks and walking canes it now carries. The new sticks are masterfully carved by artisans from around the world and represent quality as well as function for the user. The collection includes hiking sticks and walking canes.
Twisted and Freeform Walking Sticks make a wonderful addition to any cane collection. These sticks are hand carved and represent a blend of many hardwoods. Many of the hand carved twisted sticks are made from woods like Sassafras, Hickory, Maple, Bamboo and Oak. The specialty type woods used are unique in the character and appearance. Take a look at the Freeform Carved Sticks offered on the website to see the many different woods used in making the stick. The quality of the workmanship and the hours of labor that goes into each and every one of the sticks are shown by just looking at the beauty of the walking stick.
Twisted Carved sticks are used by many of the outdoor hikers today. The variety and style of the sticks will make the user take notice. The sticks are offered in many styles and variations of twist by the stick maker.
One of the newest handcrafted sticks is the collection by Plum Creek. The master designer has made a name for the sticks. The beauty and character of the hand sanded and finish is outstanding. The Vitality, Wading and Adventure Staff are one example of the type of workmanship that goes into making the sticks.
Customer Service is open for any questions regarding the collection of hand crafted walking sticks sold on the website. Call toll free at 1-888-928-1774 for any questions or to place an order. The customer service representative can help on any information needed.