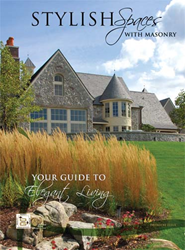 Distinctive masonry helps create memorable spaces... and gives designers an opportunity to demonstrate the difference that a personal touch can make.
(PRWEB) November 04, 2014
O&G's Masonry Division revealed a campaign initiative leading up to the publication Stylish Spaces with Masonry, a luxury lifestyle magazine the news was announced today by Anita Goerig, Director of Marketing.
Written with passion, imagery and promise to engage Stylish Spaces with Masonry features contemporary articles, masonry trends and feature stories from contributing editors worldwide. It offers readers unique sections found in masonry design including green materials, leisure styles, market trends, new products, sensible design, and style & technology combined in one luxury magazine. "The campaign is an exciting step toward the première issue of the magazine, due out in January 2015," Goerig exclaimed.
Sharing an account of its beginning she confides, "Seen as a vehicle for O&G to emphasize its capabilities Stylish Spaces with Masonry was initiated earlier this year. Seeing the luxury publication coming to life as it nears completion and realizing the support from advertisers and contributing editors who are helping make the magazine a reality is very gratifying." The magazine bridges all areas of the masonry division together, from homeowners, contractors and GC's to builders, architects and landscapers. It draws attention to the products, services and beautiful showroom locations available to its diverse client base and is the reason for its design.
An expansive distribution model is in place. Architectural firms, home builders and general contractors, luxury retail outlets, country clubs, O&G's six Earth Products Showcases, and advertisers/editors will receive the publication. The direct mail piece and social media campaign offers current customers the opportunity to reserve a free copy of the elegant magazine. Advertising is also slated with select professional associations including the Connecticut chapters of AIA, ASLA, and the HBA.
"O&G has been a trusted partner and supporter of Champlain Stone for over ten years. We're excited to be a part of this premiere edition of Stylish Spaces and look forward to working closely with O&G in support of New England's talented and innovative architectural community," commented Mike Sylvia, Director of Marketing for Champlain Stone.
Advertisers and contributing editors building their brand alongside O&G's luxury publication Stylish Spaces include: Belden/Redland Brick, Champlain Stone, Coldspring Granite, Formulated Solutions, Instone, Marshalls (UK) LLC, Old Castle/Trenwyth, Pavestone, Quikrete, Realstone Systems, Techo-Bloc, Supreme Forest Products, Unilock, Davis Raines Design, Richter & Cegan Landscape Architects, Soyster Taylor Design Architects, and Stantec.
"Distinctive masonry helps create memorable spaces; Stantec takes great care to incorporate it into its designs," says Gary Sorge, FASLA, senior principal and landscape architect at Stantec. "O&G's Stylish Spaces will give designers an opportunity to demonstrate the difference that a personal touch can make, and the advantage that a collaborative effort between a designer and a material's specialist such as O&G can bring to a property owner."
About O&G Industries Masonry Division
Since its inception in 1923, O&G has grown to become one of the largest and most diversified construction companies in the Northeast and one of the largest suppliers in New England of masonry products and services. Headquartered in Connecticut the company offers LEED© project solutions to achieve the highest masonry certification. O&G facilities include eight mason stores and nine stone-yards, six Earth Products Showcase showrooms, and a fabrication and distribution center all strategically located throughout Connecticut. Customers receive expert consultation from showroom sales professionals and are guided through the widest selection of natural stone and tile products of elegantly appointed vignettes from classic to contemporary in design. O&G's logistical coverage extends throughout the Northeast and beyond.
Navigate to O&G's website and social media pages where special offers, raffles, ideas, projects and the latest news are featured.