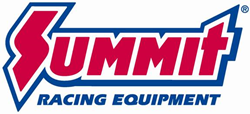 Tallmadge, OH (PRWEB) November 14, 2014
Diamond Eye Performance is all about trucks and truck exhaust products. The company made its name building exhaust systems for diesel trucks--here are three of the latest Diamond Eye products available at Summit Racing:
Quick-Connect Coupler Exhaust Clamps
Made for four inch diameter tubing, these exhaust clamps feature high-quality CNC-machined flanges and V-band clamps. This design allows you to easily swap out exhaust components without having to cut or pry them apart—ideal for swapping out tailpipe sections at a racing or pull. This video shows how the clamps work.
Crossover Pipe for 1993-200 GM 6.5L Duramax
This two-piece exhaust crossover pipes replaces the factory crossover. The larger 2.5 inch diameter tubing improves exhaust flow, allowing your turbo to spool up quicker to improve throttle response and power. The crossover is made from aluminized steel and comes with flanges to connect it to the factory exhaust manifolds.
Exhaust Tips
Available for four and five inch diameter exhaust systems, these exhaust tips are the perfect finishing touch to a Diamond Eye Performance exhaust system. These tips are made from stainless steel with a polished or black finish. Most tips are clamp-on style for easy installation. Available outlet diameters: four, five, and six inches.
Summit Racing also offers the following Diamond Eye Performance products:

Off-road and race intermediate pipes
Muffler delete pipes
Exhaust tubing and elbows
Tubing, clamps, adapters, and gaskets
NOTE: Some Diamond Eye Performance products are not legal for sale or use in California and other states on any pollution-controlled motor vehicle.
SEE ALL DIAMOND EYE PERFORMANCE EXHAUST PRODUCTS AT SUMMIT RACING
Summit Racing Equipment
http://www.SummitRacing.com
1-800-230-3030