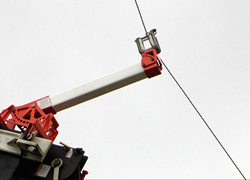 Installation of the LL-5-1000 is simple and can be performed by one worker in less than five minutes.
Waco, Texas (PRWEB) October 31, 2014
Responding to field demands from the transmission and distribution maintenance industry, LineWise's LL-5-1000 Static Line Lifter provides a safe and effective solution for power line and electric utility crews looking to optimize the utilization of personnel and equipment on the jobsite.
For greater productivity and crew efficiency, the LL-5-1000 supports the static line with the same crane being used to hold multiple energized conductors. This frees up bucket trucks or other equipment previously dedicated to holding the static line, thereby allowing linemen to make use of the equipment to perform other functions. The LL-5-1000 also maintains the static line's relative position above and ahead of the conductors.
The LL-5-1000 has a 1,000-pound vertical lift capacity, is 60 inches long and features angular adjustments to meet the needs of various applications. The jib is constructed of continuous roving, filament-wound fiberglass and includes an additional finish over the fiberglass gel coat for added durability. The LL-5-1000 is tested to 13.5 kV and exceeds the applicable requirements of ANSI A92.2 and ASME B30.5.
Installation of the LL-5-1000 is simple and can be performed by one worker in less than five minutes. Using a powder-coated, high-strength steel attachment bracket, the lifter can be placed on any crane. Each bracket is unique to the crane model it's mounted on, while the jib and line holder are designed for universal use. The entire bracket and line holder assembly weighs less than 95 pounds for easy handling.
For convenient storage and safe transport, the LL-5-1000 is offered with a vinyl-padded cover. The unit's compact size allows it to either be placed in a toolbox or storage container, or in the service body.
Development of the LL-5-1000 was initiated through a request from a leading electrical utility company, with the product concept derived from actual line crews in the field.
LineWise is a division of Diversified Products. The company provides product conceptualization, engineering and fabrication to address extensive to small-scale specialty equipment needs. For more information about the LL-5-1000 Static Line Lifter or other specialty product capabilities, contact Diversified Product Development, 1001 Webster Avenue, Waco, Texas 76706, phone 254-757-1177, fax 254-757-1188, or visit the website at http://www.diversifiedproduct.com.