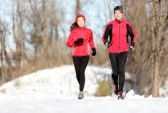 New York City, New York (PRWEB) October 31, 2014
It's only the first month of Autumn and it's easy to feel the slowing down that happens during the colder days. Psychologically the mind may just be waiting for the New Year to come to get everyone back into the wellness routine.
Make changes that are in line with the colder seasons - yet good for the body. Here are some tips for a slimmer, more energized body:
1. Go to the grocer and find root veggies. Experiment with it. Maybe some soups or stews. Even patties are easy to make and delicious. The value of roots in the daily diet include: reduces the risk of cancer, studies show beet juice can help you exercise longer, and it provides folate –a b vitamin good for conceiving.
2. Use coconut oil especially during the colder days to keep skin moisturized, tame frizzy, fly-away hair and to cook. Coconut oil is an amazing option to roast winter veggies or for cooking in high-temps because it doesn't omit free-radicals which can be toxins.
3. Challenge yourself to step outside for a brisk walk or a run. Even if the weather is cold --be sure to stretch before going out and dress warm.
4. Slow down eating. During colder weather there's less physical exertion from the body - that means everyone needs to watch caloric intake. A good way to monitor this is by using a wellness app.
5. Keep hydrated. It's the oldest trick in the book for ways to be healthy - water intake is very important. It should be filtered and ideally not in plastic bottles. It not only unhealthy, but it's also bad for the environment. Keep it simple.
Keep it simple. Eat light. Eat right. Move consistently. Smile often. Remember, a cleanse can be a great healthy jump start into winter.
About Joulebody
Years of study, training and research followed and, in 2007, founder Yvette Rose opened Joulebody to help the super busy and over-stressed people of downtown Manhattan live healthier and happier. Yvette is devoted to her clients and the promise of providing the ultimate in fitness training, nutritional guidance and spiritual encouragement.
As a wife, mother of two and business woman, she understands the challenges of taking time out to nurture the body and founded Joulebody to make it easier for people to achieve a greater level of well-being.