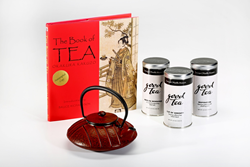 Take time to look -Georgia O'Keeffe
Santa Fe, New Mexico (PRWEB) October 31, 2014
The Georgia O'Keeffe Museum is pleased to present a collection of holiday gift items, including a set of loose teas, a teapot and a classic book about tea. Artist O'Keeffe loved tea and had a range of them at her Abiquiu, New Mexico home, including one labeled in her handwriting, "good tea."
From that humble cupboard item and O'Keeffe's lifelong love of tea came the inspiration for a line of exceptional teas. Choose from Cup of Serenity (herbal blend), Abiquiu Morning (black tea), and Japanese Green Tea with Mint. They are $10.00 each, or $8.50 at the Member price. Also available is "The Book of Tea," a classic book on the Japanese art of tea and one of Georgia O'Keeffe's favorite books, expanded and edited by Bruce Richardson. The items are priced at $19.95, or $16.96 for Members. Complementing the items is a Cast iron teapot with persimmon patina for $110.00, or $93.50 at the Member price.
Other gift guide items include paperweight- and garden-size "rocks" inscribed with O'Keeffe's remark, "Take time to look." Rock paperweight, $15.00 (approximately 4" wide, size varies), $12.75 Member price. Garden rock, $60.00 (approximately 12" wide, size varies), $51.00 Member price.
2015 wall and desk calendars, blank books and jewelry items are also available at the O'Keeffe Museum's store.
Items may be ordered from the Museum's online store, http://store.okeeffemuseum.org/ or by calling 505 946-1001. If in Santa Fe, no Museum admission is required to shop at the store.
The Museum is currently exhibiting "Miguel Covarrubias: Drawing a Cosmopolitan Line / Trazando una Línea Cosmopolita," open until January 18, 2015.
###
ABOUT GEORGIA O'KEEFFE MUSEUM:
To inspire all current and future generations, the Georgia O'Keeffe Museum preserves, presents and advances the artistic legacy of Georgia O'Keeffe and modernism through innovative public engagement, education, and research. Opened in Santa Fe, New Mexico in 1997, the Museum counts O'Keeffe's two New Mexico homes as part of its extended collection. The Museum's collections, exhibitions, research center, publications and educational programs contribute to scholarly discourse and serve a diverse audience. For more information, please visit http://www.okeeffemuseum.org/