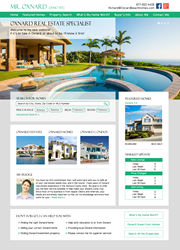 Thousand Oaks, CA (PRWEB) October 31, 2014
Strategic Agent, a company that specializes in websites and IDX home search solutions for South East Florida real estate professionals, gives a sneak peak at new website templates that will be launched mid November 2014.
The new templates are intuitive and streamlined to offer a refined and insightful user experience. The new layouts were designed to increase stickiness with online visitors utilizing proven online tools including a Custom Form Creator with unlimited forms and a home evaluation lead capture system.
Strategic Agent Website and IDX packages are available in South East Florida at an affordable $29 per month for their Agent Website and IDX Combo. Strategic Agent's IDX is powered by RealtyTech Inc.'s IDX123 system, recently mentioned in Inman News.
"We wanted to use the best IDX available for our websites," said Lance Grove, Strategic Agent Senior Account Executive. "The easy answer was using RealtyTech IDX123 for its powerful features and seamless design."
Strategic Agent's IDX is known for being user friendly. The interface helps home buyers easily navigate and view available listings with both list and map search functionalities. The IDX also has built-in lead capture features and an automated Listing Alert system that emails clients branded listing updates based on their saved search criteria.
Strategic Agent's Website and IDX Combo includes a fully functional website with 10 interchangeable templates and a streamlined home search that is loaded with features.
Visit http://www.StrategicAgent.com for a full length feature list on Strategic Agent's Website and IDX Combo.
About Strategic Agent
Strategic Agent is a Thousand Oaks, CA-based company that gives real estate professionals the tools necessary to stand out and succeed in today's online marketplace combined with solution minded, live California-based customer service. We have over 15 years of online real estate marketing expertise and have spent over 10 years of that experience offering Agent and Office websites, IDX Home Searches and Internet Marketing. For more information, please call (805) 413-7892 or visit http://www.StrategicAgent.com.