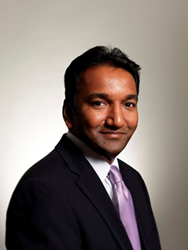 Jay has a wealth of knowledge and experience in dealing with the many substantial challenges posed in the design and construction of infrastructure projects in confined urban locations-- an obstacle we frequently face here in the Northeast
New York City (PRWEB) November 04, 2014
Jaidev Sankar, PE, has joined HNTB Corporation as a project director and vice president in the firm's New York City office. Sankar brings an extensive background in rail transit construction programs throughout the Northeast United States, including significant experience working on the design and construction of Metropolitan Transportation Authority's Second Avenue Subway program, the Massachusetts Highway Department's Central Artery/Tunnel Project as well as other projects in the Northeast and Puerto Rico.
At HNTB, Sankar will work on the design and construction of rail and transit projects and related underground structures.
"Jay has a wealth of knowledge and experience in dealing with the many substantial challenges posed in the design and construction of infrastructure projects in confined urban locations-- an obstacle we frequently face here in the Northeast," said Mike Sweeney, PE, HNTB chairman of professional services and senior vice president. "His experience on Second Avenue Subway, Tren Urbano in San Juan, Puerto Rico, and the Central Artery/Tunnel Project will provide valuable insights and lessons learned for all of the transportation agencies we serve."
Nasri Munfah, PE, HNTB national tunnel practice chairman and senior vice president, also welcomed Jay as an important addition to the New York office, especially due to his recent experience on the Second Avenue Subway program. "Jay's addition further strengthens HNTB's underground transit engineering capabilities in the New York area and positions us better for various upcoming underground rail and transit projects in the Northeast", said Munfah.
According to Sweeney, the aging infrastructure throughout the Northeast United States is a key factor driving HNTB's hiring activity for rail and transit professionals as well as bridge and tunnel engineers. In fact, the firm has hired more than 100 professionals in the New York office over the past 18 months and foresees no slowdown for the remainder of 2014.
A registered professional engineer in New York and a member of the American Society of Civil Engineers as well as the Underground Construction Association of the Society of Mining Engineers, Sankar holds a Bachelor of Science in civil engineering from Lehigh University in Bethlehem, Pennsylvania, and a Master of Science in civil engineering from Columbia University in New York.
Since opening its office in New York City in 1922, HNTB has maintained a continuous presence in Manhattan and has expanded its practice in the state with offices in Albany and on Long Island. HNTB Corporation employs more than 400 professionals in multiple offices across the New York tri-state region.
About HNTB
HNTB Corporation is an employee-owned infrastructure solutions firm serving public and private owners and contractors. Celebrating a century of service, including more than 90 years in New York, HNTB understands the life cycle of infrastructure and addresses clients' most complex technical, financial and operational challenges. HNTB's New York offices currently employ more than 400 full-time professional in nine tri-state locations. Professionals nationwide deliver a full range of infrastructure-related services, including award-winning planning, design, program management and construction management. For more information, visit http://www.hntb.com.