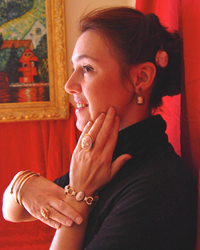 "I try to find a balance between old fashioned retail concepts and the modern Internet World. With the addition of some cleansing & healing energy I wish to share with my customers.
Somerset, New Jersey (PRWEB) November 02, 2014
Lena Smirnova began her online business - http://www.bestestatejewelry.com after immigrating to the U.S. from Saint-Petersburg, Russia. In 1999, her cousin had introduced her to online selling, Lena then began her business by selling Cameos. Soon, the business expanded to include gold & diamond rings, gold & diamond earrings, bracelets, pendants, necklaces, and cufflinks. Lena also has an exquisite collection of gemstone pieces as well. With so many online sellers of Jewelry, it is difficult to know who is trustworthy. A few things make Lena / Best Estate Jewelry different from others. Her business is sized so that she always personally connects with the customers. Lena will e mail, Skype and speak on the phone to anyone with questions. Lena believes firmly that one must treat people, as one would wish to be treated, personally and in business. This concept is often missing when it comes to business.
Another point that makes Lena's business stand out is her choice of inventory. Lena has exquisite and unusual taste. The inventory is eclectic, with everything from the most elegant and conservative pieces to whimsical colorful & animal themed pieces.
The most significant difference, however, is what Lena does to the jewelry itself before it goes to the customer. In recent years, Lena had developed a keen interest in meditation, Reiki and spirituality. Through meditation and holistic approaches she infuses her jewelry with protection, positive energy, and love. Many buyers started to notice (after wearing Lena's Jewelry) that they feel really good, and experience high levels of energy and joy. These customers reported their experiences to Lena. It must be pointed out that these customers had no prior knowledge that their newly bought jewelry had been so positively imbued with healing energy. Lena did this first as an experiment, but discovered that many customers really picked up on and benefited from the positively charged jewelry.
One must ask, how does Lena do this? The process is actually very simple; Lena cleans the newly acquired jewelry with a mild organic soap and sea-salt. This is part of the process of cleaning out the energy of the previous owners. This is done because no one can predict how the vibrations of previous owners of an object will interact with the new owner of the object. Lena then bathes the jewelry in sunlight for a half hour and performs a Reiki healing / energizing session, adjusted for the charging of inanimate objects vs. a living person. Lena gives a loving piece of herself in every item of jewelry. You can find Lena's jewelry at her online store - Best Estate Jewelry and also on Etsy, Ruby Lane & eBay.