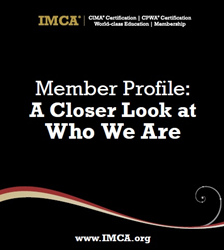 IMCA members have on average $297 million in assets under management (AUM), and more than 75 percent of all IMCA member clients have a net worth of $500,000 or more
Denver, Colo. (PRWEB) October 31, 2014
Investment Management Consultants Association® (IMCA®) in 2014 grew to more than 10,000 members and certificants worldwide, with revenues placing the association among the largest organizations serving investment advisors.
Among not-for-profit professional associations that serve investment advisors, IMCA's latest reported annual revenue (2013) of $11.968 million ranks the Colorado-based association behind the CFA Institute, the Certified Financial Planner Board of Standards (CFP Board), and the National Association of Insurance and Financial Advisors (NAIFA), according to the most recent publically available federal tax records.
The newly released IMCA Member profile, compiled by Cerulli Associates, finds IMCA members have on average $297 million in assets under management (AUM), and more than 75 percent of all IMCA member clients have a net worth of $500,000 or more. Forty-one percent of IMCA advisor members work at a national broker‒dealer, 29 percent are independent advisors, 27 percent are regional broker–dealer or bank advisors, and 3 percent are classified as other.
"IMCA's success as an organization is an outcome of our members' success within their profession. Our board and staff execute amazing discipline and focus toward helping advisors grow their sophistication, further their skills and competency, and differentiate themselves through advanced education and credentials," said Sean R. Walters, CAE, IMCA's Executive Director/CEO.
All told, IMCA members on average oversee seven times the AUM of their industry peers, with most members (more than 80 percent) serving as owners or partners of an ensemble team, helping to address the complex needs of high-net-worth (HNW) individuals. Nearly 90 percent of IMCA members provide fee-only or fee-based advice, as defined by Cerulli Associates as part of their research of advisory practices.
In addition to capturing a snapshot of IMCA members, the profile also examines where IMCA advisors are likely to invest. The profile finds that more than a quarter of IMCA advisors invest client assets in individual securities, and more than 14 percent manage separate accounts for their clients. By contrast, less than 4 percent invest client assets in variable annuities, 3.8 percent in money markets, and less than 1 percent invest in fixed annuities or various types of life insurance.
Looking ahead, IMCA member advisors say they are considering increasing the use of exchange-traded funds (ETFs), separately managed accounts, and insurance. The profile finds that 46 percent of IMCA members say they would consider increasing investments in ETFs, 47 percent see increasing the use of separately management accounts, and 39 percent may increase the use of equity mutual funds.
Conversely, 32 percent of IMCA member advisors say they would consider reducing investments in individual fixed-income securities, 29 percent see reducing investment in fixed-income mutual funds, and 22 percent would consider reducing investment in individual equities.
–30–
Established in 1985, IMCA is a nonprofit professional association and credentialing organization with more than 9,100 individual members in the U.S. and Canada, 400 members in international affiliates, and 500 CIMA/CIMC/CPWA certificants who do not hold membership. IMCA members collectively manage more than $2.477 trillion, providing investment consulting and wealth management services to individual and institutional clients. Since 1988, IMCA has offered the Certified Investment Management Analyst® (CIMA®) certification, which earned accreditation by the American National Standards Institute (ANSI) in April 2011, making it the first financial services credential in the United States to meet international standards (ISO 17024) for personnel certification. IMCA's Certified Private Wealth Advisor® (CPWA®) certification is suited for wealth management professionals working with high-net-worth clients. In 2013, IMCA conferences and workshops hosted more than 4,000 attendees.
IMCA® and Investment Management Consultants Association® are registered trademarks of Investment Management Consultants Association Inc. CIMA®, Certified Investment Management Analyst®, CIMC®, CPWA®, and Certified Private Wealth Advisor® are registered certification marks of Investment Management Consultants Association Inc. Investment Management Consultants Association Inc. does not discriminate in educational opportunities or practices on the basis of race, color, religion, gender, national origin, age, disability, or any other characteristic protected by law.