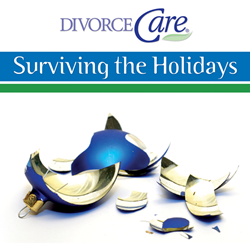 We've designed this material to help restore hope and optimism to Thanksgiving and Christmas, even in the midst of the deep pain.
Wake Forest, North Carolina (PRWEB) November 04, 2014
People who are separated or divorced often face feelings of anxiety and depression during the season that stretches from Thanksgiving through Christmas. But those in a marital breakup can find encouragement and practical suggestions to help make it through the holiday season at DivorceCare's Surviving the Holidays seminars.
Thousands of sites worldwide will begin offering the seminars in the coming weeks. To find a location near you, click here.
"Longstanding family traditions are upended by separation and divorce, creating the potential for loneliness, depression, and stress," said DivorceCare founder Steve Grissom. "We've designed this material to help restore hope and optimism to Thanksgiving and Christmas, even in the midst of the deep pain. The information is not complicated—it consists of simple steps a person can take to make the holidays manageable and even enjoyable."
Here's what to expect when you attend a Surviving the Holidays event:

A video presentation featuring advice from respected counselors, therapists, and teachers on how to survive Thanksgiving and Christmas, plus real-life stories of people who have faced a marital breakup and weathered past holiday seasons
Practical advice on how to face tough and unexpected emotions during the holidays, survive potentially awkward and hurtful moments at parties, and help your children have a happy holiday
After the video, a small-group discussion where attendees discuss concepts learned and share their specific concerns
Each seminar attendee receives a Survival Guide containing over 30 days of short inspirational readings that offer comfort through the pain of separation or divorce. The guides also include helpful strategies to help attendees create a holiday plan and learn how to have a more manageable, healthy approach to the busy season.
Visit the DivorceCare Surviving the Holidays website to learn more. The website also contains downloadable articles and helpful video clips featuring expert teaching and personal testimonies on holiday survival after a marital breakup.
To schedule an interview, contact DivorceCare founder Steve Grissom at sgrissom(at)churchinitiative(dot)org or 919-562-2112.
ABOUT DIVORCECARE
DivorceCare is a ministry of Church Initiative, a nondenominational, nonprofit ministry serving more than 20,000 churches worldwide. From its headquarters in Wake Forest, North Carolina, the ministry creates and publishes video-based teaching materials to help churches minister to people experiencing life crises. Church Initiative programs include DivorceCare, GriefShare, Single & Parenting, and DC4K (DivorceCare for Kids).