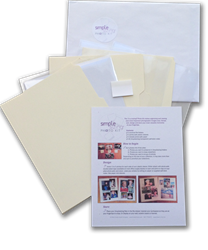 Acid-containing materials, light and dust spell doom for photos
Inverness, Ill (PRWEB) October 31, 2014
No matter how large your collection of photos, a few of them rise to the top in terms of meaning and value. A professional organizer and a photo organizer have introduced a product to store and preserve those images compactly and safely. The Simplesizing® Photo Kit offers a home for 30 to 50 traditional or digital photographs as close as your nearest file drawer. The kit includes three archival file folders; three photo-safe plastic sleeves; three photo-safe sheets of cardstock; 30 transparent self-stick notes; plus instructions for choosing the best photos from a collection and assembling them in the kit. The Simplesizing Photo Kit is $19.97, including shipping.
The idea for the Simplesizing Photo Kit originally came from Professional Organizer Jane Carroo, owner of Clutter Coach Company and Organizing Coach Company, based in Inverness, Ill.
"I've worked with so many clients overwhelmed with their stuff and in many cases, looking for ways to downsize," said Carroo, a Certified Professional Organizer® and Certified Relocation Transition Specialist®. "While I love the concept of photo albums and scrapbooks, they're not for everyone. I thought it was a shame to leave those most important photos in a box where they couldn't be enjoyed. The Simplesizing Photo Kit stores those best photos in a way that requires less than a half-inch in a file drawer."
Carroo enlisted the help of Monica Lee, a Certified Personal Photo Organizer in Hampshire, Ill. Her background in the memory preservation industry led to the Simplesizing Photo Kit which preserves traditional photographic images in a safe way for the long-term.
"Acid-containing materials, light and dust spell doom for photos," said Lee, who has spoken on photo organizing at a number of libraries in the Chicago area. "The Simplesizing Photo Kit is dynamic enough to preserve both traditional photos and digital images."
Carroo and Lee plan to offer webinars with creative ideas for using the Simplesizing Photo Kit. To learn more about the Simplesizing Photo Kit, visit http://www.cluttercoach.com.
ABOUT THE ORGANIZERS: Jane Carroo combines her past experience as an educator, corporate consultant, life coach and Certified Professional Organizer to help clients gain clarity and control over their space, paper and time. She is a member of the National Association of Professional Organizers, the Institute for Challenging Disorganization and the Association of Personal Photo Organizers. She has been featured on NBC News, the CBS Early Show and Woman's World Magazine and has been quoted in many leading newspapers and magazines. For information on organizing services visit http://www.organizingcoach.com. To view the Simplesizing photo kit and other products visit http://www.cluttercoach.com.
Monica Lee is a storyteller. She draws on her experience as a newspaper reporter, a headline writer, an executive with a worldwide scrapbooking company, a communications director, and a regional representative for a start-up technology firm to help people organize their photos and tell their stories. She is a member of the Association of Personal Photo Organizers, the Association of Personal Historians and the National Association of Memoir Writers. She has also written a memoir, The Percussionist's Wife: A Memoir of Sex, Crime & Betrayal.
Contact information:
Jane Carroo
847-776-8717
jane(at)cluttercoach(dot)com
Monica Lee
847-683-9798 (landline) 630-945-2890 (cell)
mindfulmonica(at)yahoo(dot)com