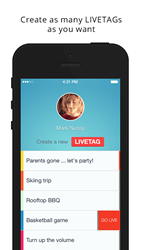 Menlo Park, Calif. (PRWEB UK) 3 November 2014
Cynny, a consumer service that aims to revolutionize mobile storytelling will attend Web Summit in Dublin, Ireland and will be exhibiting in Simmonscourt (Village) Nov. 4th - Nov. 6th; where it will demo the next generation of its service. Cynny takes sharing experiences to a whole new level, and users can easily share from any device with just a few taps. Anyone can relive their everyday events, and share them with their friends. User's shared information is instantly available online, and can be viewed on either the Cynny App or any browser without having to download anything.
Cynny lets you create multiple online channels, or 'LIVETAGs' where anything you add, such as pictures, videos, music, links etc., all gets rendered into a one-of-a kind sharing experience. Uploaded content becomes alive and allows users to create a show for their audience. Users can view 'LIVETAGs' in real-time or later on.
In Dublin, Cynny's team will present the first prototypes of this brand new sharing experience.
Cynny – Enhancing the Sharing Experience and the Control over Content
With Cynny, users can really choose who to share stunning LIVETAGs with. Cynny is the only communication platform that allows you to share via social media, messaging apps, text messages, or email. Privacy is important to us, and we allow users to make any LIVETAG instantly private whenever they want with just one touch, even retracting the posts on other Social Networks. Content though remains stored in the unlimited cloud storage provided for free. Cynny can be downloaded from the App stores (iTunes & Google Play) or accessed via http://www.cynny.com
Cynny runs on the smallest servers in the world, based on proprietary technology developed internally specifically for our use. This differentiates Cynny from other startups, liberating it from high costs and constraints of third party providers like AWS, running its own ecofriendly, high performing infrastructure. The technologically advanced servers are powered by ARM CPU's and are built to develop the cloud of the future.
About Cynny
Cynny gives people a simple way to see, organize, and instantly share moments of everyday events or special occasions creating highlights called LIVETAGs. Cynny removes the clutter of social networks and gives people control of what they share with the people who matter most. Cynny was developed and runs on its own infrastructure using ARM technology to make it cost effective to scale, be fast, and extremely reliable. The company was founded and is led by leading experts in cloud technology. Cynny is based in Menlo Park, California with R&D offices in Italy, Romania and Taiwan.
About Web Summit
Dublin Web Summit is a IT industry conference since 2010. The key topic is internet Technology, it's evolution. It's considered the most important conference for Startups, with audience composed of CEOs and founders of tech startups, a range of important figures from the technology industry and related industries. Web Summit 2014 will be held over three days from November 4th with an expected over 20,000 attendees from 106 countries.