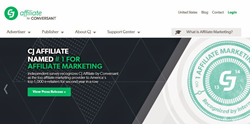 We are very excited to leverage the CJ Affiliate Network and the affiliate management experts at Experience Advertising, Inc. to grow our affiliate program into a significant revenue channel in 2014 and beyond.
Fort Lauderdale, FL (PRWEB) October 31, 2014
Experience Advertising, Inc., a leading affiliate program management agency (OPM), has announced that they are now managing and administrating the affiliate programs for TheCuteKid.com and CanvasPeople.com on the Commission Junction affiliate network. Affiliate marketers and web publishers will now be able to earn commissions on sales they generate when referring their website visitors to TheCuteKid and CanvasPeople via CJ.com's tracking links and banner ads.
The CuteKid™ gives parents the outlet to put their special cute photos to the test against other CuteKids™ from around the world. Because the Internet brings the world together, TheCuteKid.com is being touted as the world's leading child photo contest website.
CanvasPeople allows anyone to put their photos and images onto beautiful canvas prints that they can adorn their home or office with. They are one of the leading Internet destinations for photo-to-canvas services and a well-performing affiliate program.
The CJ Network helps to reach and connect with millions of online consumers every day by facilitating productive partnerships between advertisers and publishers. Greg Byrnes, President and co-founder of Parent Media Group stated, "We are very excited to leverage the CJ Affiliate Network and the affiliate management experts at Experience Advertising, Inc. to grow our affiliate program into a significant revenue channel in 2014 and beyond."
Experience Advertising, Inc. is a leading affiliate marketing agency, that specializes is recruiting affiliate marketers and increasing sales through the affiliate marketing channel. CEO Evan Weber stated, "We are very excited to manage and grow the TheCuteKid and CanvasPeople on the CJ Network. These exciting programs are a great for affiliates and web publishers to earn commissions on their website traffic and other traffic sources."