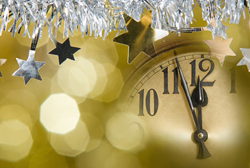 (PRWEB) November 02, 2014
Bistro Romano, Philadelphia's popular regional Italian restaurant, is geared up for another evening of fun and dancing as the year 2014 comes to a close. In barely eight weeks, locals and guests in Philadelphia will be putting their dancing shoes to good use in the annual Philadelphia New Year's Eve 2014 Dinner Gala Party, produced by Bistro Romano.
Featuring the distinctive sound of City Rhythm Orchestra, the New Year's Eve Dinner Gala is about to prove it is the best dinner dance party and supper club performance in Philly to say goodbye to 2014 and ring in 2015 – and with tickets selling out fast.
With several earned music awards to their name, in Pop/Rock and Jazz/Swing categories, City Rhythm Orchestra is about to enthrall guests with their stellar horns, a rockin' rhythm section, innovative arrangements and versatile vocalists that create an extraordinary experience.
On the eve welcoming 2015, people can party to City Rhythm Orchestra's music, the sounds of Sinatra, classic rock, party tunes, swing and Motown. Guests can indulge in the hors d'oeuvre reception, enjoy the four-course gourmet dinner and dance to the party favors. Come midnight, guests welcome 2015 with a bang through a Champagne Toast and a fireworks display on the river.
This year's Philadelphia's New Year's Eve Dinner Gala will be held at the Sheraton Society Hill, fresh from a multi-million dollar renovation. The hotel now houses a contemporary space, complete with upgraded amenities, enhanced Philadelphia restaurants and an open, inviting layout – making it an ideal place for an evening of fun and entertainment welcoming the New Year.
The place-to-be in Philly for fine wines and unique pairings, Bistro Romano holds the yearly New Year's Eve Dinner Gala as one of its several events that celebrate the city of Philadelphia and its love for celebrations. The Italian restaurant and bar also holds similar special events such as the New Year's Eve A La Carte Dining and Mystery Theatre at its historic 120 Lombard Street location.
To find out more about the New Year's Eve Dinner Gala produced by Bistro Romano, please call (215) 925-8880 or visit http://www.bistroromano.com/nyephila/ for information.
ABOUT
Bistro Romano is a popular romantic restaurant in Philadelphia known for its wide range of Italian dishes and fine wines that bring together old world quality and simplicity with new world innovation. In their 28th year the restaurant is located in the historic 18th century granary with candlelight dining at 120 Lombard St. in Philadelphia, they bring together old world quality and simplicity with new world innovation to create a menu that tempts a wide range of palates.