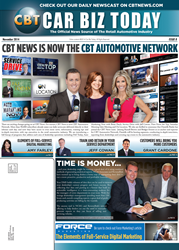 Atlanta, GA (PRWEB) November 01, 2014
CBT Automotive Network (formerly CBT News) announced today that the November issue of Car Biz Today magazine is now available online, and printed copies will be delivered to dealerships soon. To see the digital version of Car Biz Today magazine, visit CBTNews.com
This month's issue features Lexus of Greenville, an Elite of Lexus award winner that has enjoyed tremendous success over the past few years. The dealership has been recognized for outstanding customer service in part because of the top-notch amenities and services offered to its clients. Lexus of Greenville also partners with Nobis Works, an Atlanta-based organization that provides job training, employment and vocational support for people with disabilities and other barriers to employment. Café Blends, a complimentary coffee and snack bar at the dealership, is staffed entirely by individuals on the Autism spectrum.
In another feature, NCM Associates' President and CEO Paul Faletti discusses how NCM and ReverseRisk have teamed up to bring dealerships a data aggregation tool, axcessa, designed to save managers time and money.
The magazine has added a new department titled "Superstar" which features a sales professional and a service advisor each month who are going above and beyond to make their dealerships successful. This month's superstars are Brenna Carrigan of Dan Cummins Chevrolet and Buick in Paris, Ky., and Duane Litz of Santa Margarita Ford in California.
Contributors for this month's issue of Car Biz Today magazine include Grant Cardone, David Lewis, Joe Verde, Jeff Cowan, Amy Farley, Anne Flemming, Brenda Stang, Jenn Reid, Jim Radogna, John Van Alstyne, Mike Esposito, Tim McLain and Tom Kukla.
For more information or to sign up for a free subscription, go to CBTNews.com